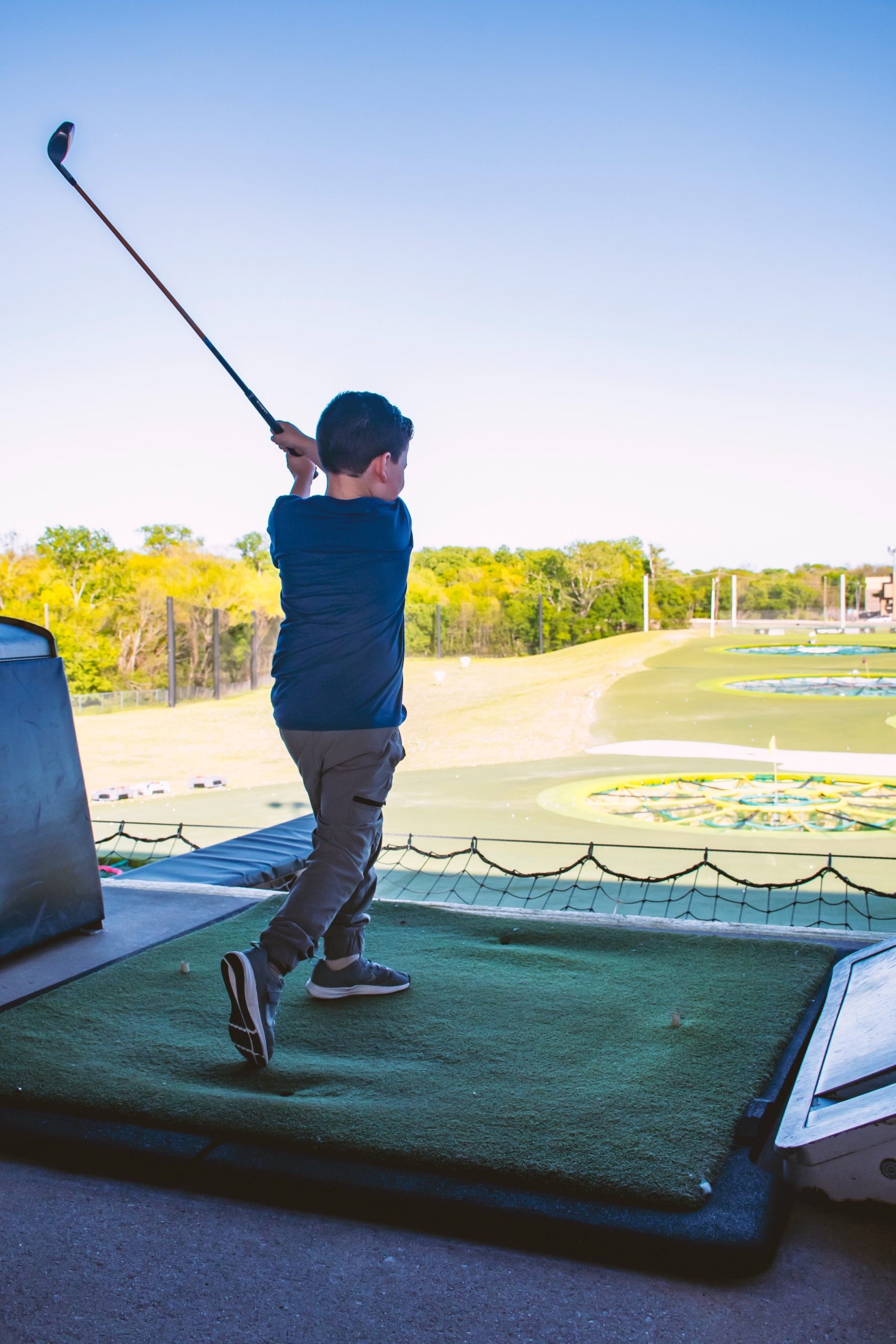 Golf is a great sport for kids to get into.  It teaches them patience, perseverance, and discipline, provides much-needed fresh air and exercise and it's a great way for them to foster friendships and generally let off steam. The physical and mental benefits of golf are well-documented, and research has also shown that children who take up golf at an early age are more likely to continue with it into adulthood.
Skills built through golf such as decision-making, etiquette and planning can also be carried into adult working life giving them a head start in the world of business – so no matter how young your child is now, it's worth investing in some kit!
So, to get them on their way and help them spend their pocket money (and your hard-earned cash!) Online Golf has handpicked this season's must-have on-course clothing for your mini golfers of all abilities – from those just beginning to the aspiring Tigers – they'll go from novice to pro in no time!
BEN ROSS JUNIOR FAIRWAY WOOD (£27.99)
An absolute necessity for a game of golf, your child will need a few clubs. It's a good idea to build a set of clubs slowly as your child improves and you know they're actually going to stick at it! With a clever colour-coded system to find the correct golf club for your child's height, the Ben Ross Fairway Wood features an oversize head construction with a high amount of loft to make getting the ball off the tee easier, ensuring your child's confidence is boosted. It has an undersized grip to fit little hands and comes complete with a 12-month warranty and head cover.
SKECHERS BLASTER JUNIOR SHOES (£39.90)
A stylish, waterproof shoe allows your junior golfer to perform in any weather. With replaceable Softspikes® for added grip on slippery ground and Ultra GoTM midsole cushioning for added comfort while walking the course, this lace-up shoe has a modern, sleek design with stitching and colour-pop details to ensure your budding golfer looks the part too!
PUMA GOLF JUNIOR TAYLOR POLO SHIRT (£24.90)
With modern colour blocking and stripes, this trendy golf shirt features a classic three-button placket and fold over collar to make sure your child meets the clubhouse dress code requirements. Made from performance enhancing materials including moisture management and added stretch for comfort, they'll enjoy freedom of movement and be able to swing in style.
UNDER ARMOUR JUNIOR TECH 2.0 MIDLAYER (£29.90)
As the temperatures start to cool, layering is important and this Under Armour garment won't disappoint. With quick drying UA Tech fabric, this mid layer provides comfort and style on and off the course. Despite the streamlined fit and shaped hem, its stretch properties allow a complete range of motion while staying completely on trend.
PALM GROVE JUNIOR CHINO TROUSERS (£9.90)
These classic chinos from Palm Grove are made from a very stretchy material to allow unhindered movement. They are slim-fitting and available in two solid colours which will go well with any tops and meet any club or discerning child's style criteria.
VOLVIK MARVEL GOLF BALLS (19.90)
Avengers! Assemble! Take your mini golfers' game to the next level with these fun, officially licensed Marvel golf balls. Choose from the Black Panther, Ironman, Captain America, Spiderman or Thor, with each box containing four balls – just make sure they use them on nice open holes where there are no water features lurking ready to swallow up their heroes!
PUTTOUT PREMIUM PRESSURE PUTT TRAINER (£29.90)
No sporting champs ever got to the dizzying heights of stardom and success without hours of practice! Don't let your little one's training stop when they leave the golf course – they can practice at home with the Puttout Putt Trainer. Winner of the Golf Digest Editors' Choice Award 2021, the ergonomic design folds up to fit easily for storage and has been developed to simulate real putting conditions.
For more information on Online Golf's full product range and golfing attire visit here.