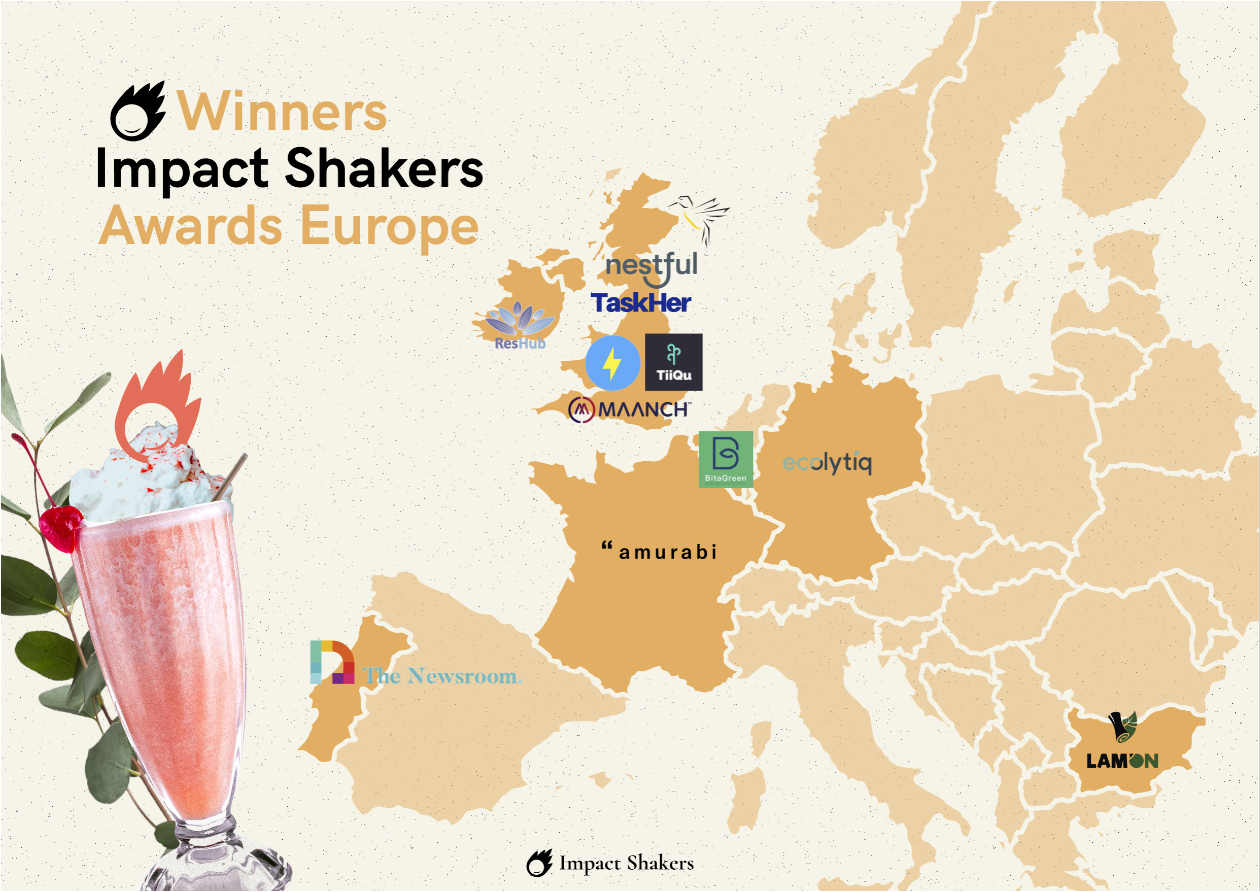 Spotlight on businesses with a positive impact on society and the environment.
Brussels, 21 June 2021 – The inaugural Impact Shakers Awards is pleased to announce its winners! The twelve winning startups come from the United Kingdom, Germany, France, Belgium, Ireland, Portugal and Bulgaria. Impact Shakers CEO Yonca Braeckman says the goal of the awards is to help create a fertile environment in which impact driven startups can grow into strong and scalable businesses.
The public voting delivered twelve winners, each of them startups with a focus on environment, inclusion and society:
Category Energy: Charm Impact (Borehamwood, United Kingdom)

Category Foodl: LAM'ON Ltd (Sofia, Bulgaria)

Category Health: ResHub (Dublin, Ireland)

Category Water: BitaGreen (Leuven, Belgium)

Category Political Voice: The Newsroom (Lisbon, Portugal)

Category Gender Equality: TaskHer (London, United Kingdom)

Category Education: Ecolytiq (Berlin, Germany)

Category Income & Work: Lightning Social Ventures (London, United Kingdom)

Category Social Equity: TIIQU (London, United Kingdom)

Category Housing: nestful (London, United Kingdom)

Category Peace & Justice: Amurabi (Paris, France)

Category Networks: Maanch (London, United Kingdom)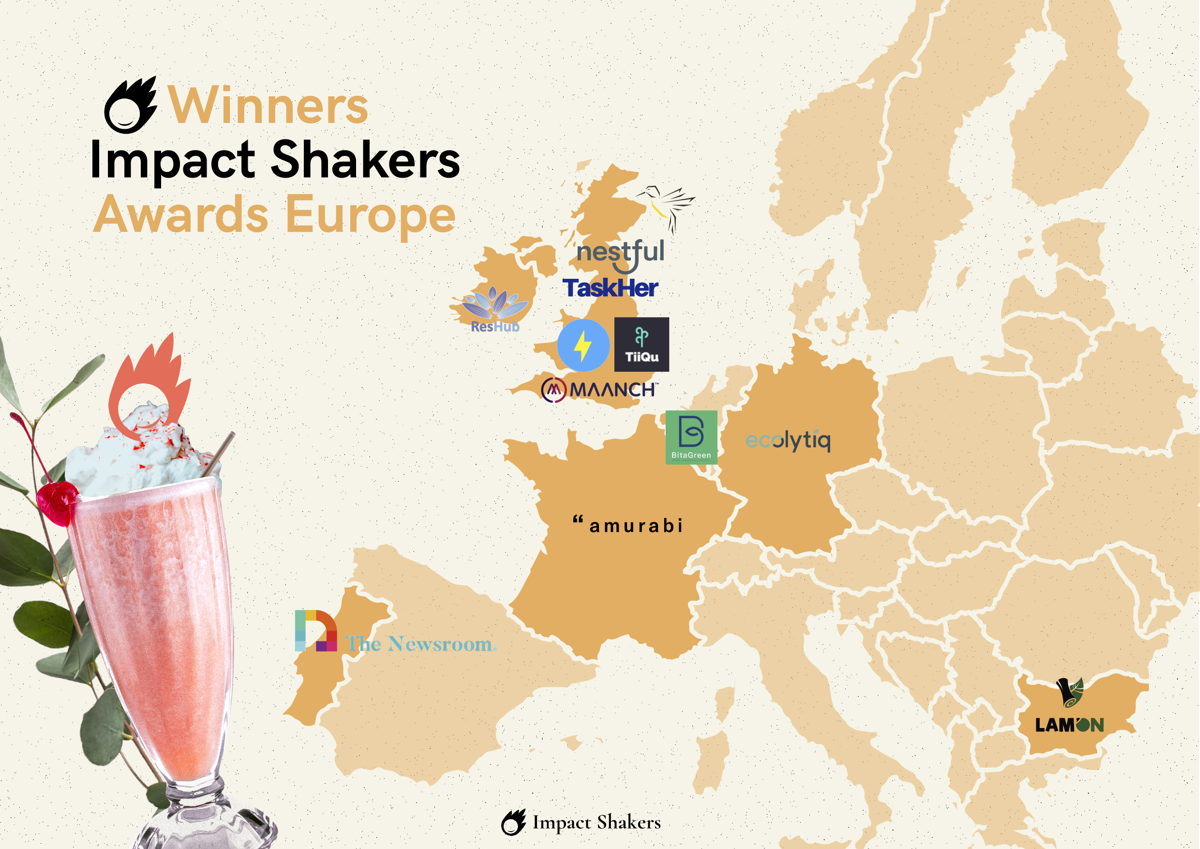 Doughnut economics for societal and environmental impact
The Impact Shakers Awards help to create a growth environment in which impact driven startups can grow into strong and scalable businesses which in turn, make the economy more inclusive, environmentally friendly and social. Impact Shakers-CEO Yonca Braeckman: "We are inspired by the doughnut economics model, which maps human prosperity according to a social foundation and an ecological ceiling. From this vantage point, we assess the economic profit as well as societal and environmental impact."
Prize package
The twelve winning startups will be invited to participate in an intensive bootcamp to secure alternative funding, and get access to a prize package with valuable tools and workshops for impact entrepreneurs valued at 20.000 euro. They also will become part of the global Impact Shakers ecosystem and receive access to unique networking opportunities with highly sought after mentors, business angels and impact founders across the globe.
"We are absolutely thrilled that the work TaskHer is doing has been acknowledged by such a notable panel of judges and awarding body. This award for Gender Equality further validates the pressing need to shift the gender imbalance in this multi-billion pound industry. Thank you very much to everyone who voted for TaskHer, it means so much to us." – the TaskHer team (UK)
Next Impact Shakers Awards in the Middle East and North Africa region (MENA)
The awards are a part of the broader Impact Shakers ecosystem. The organisation is currently developing their impact investment projects and will launch an accelerator later this year. The next region the Impact Shakers Awards will launch will be in the Middle East and North Africa (MENA) after the Summer.
"We want to launch the awards in different startup regions and will look for innovative and impactful businesses in the MENA region next. It's a logical choice for us, since the Impact Shakers founders have roots in Turkey and Algeria and we'll be very happy to shine a spotlight on these exciting and emerging startup ecosystems." – CEO Yonca Braeckman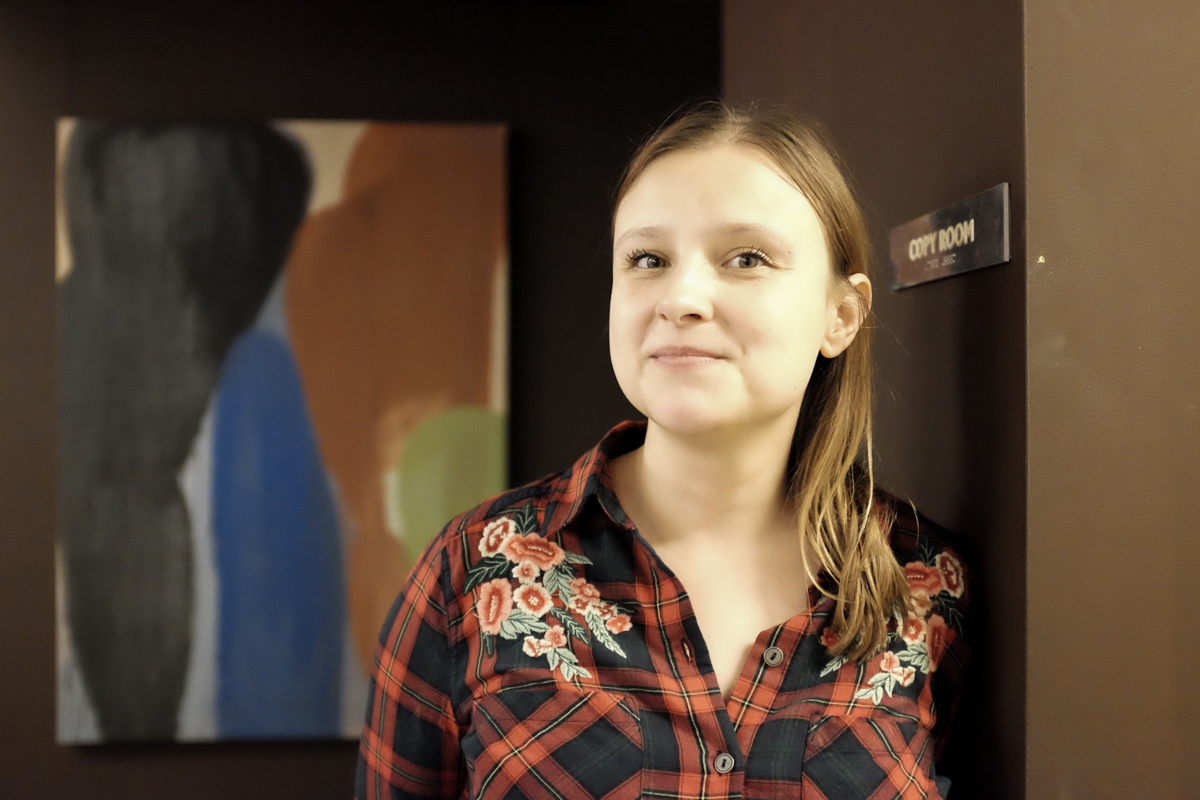 ---
Winners
Energy

: 

Charm Impact

 (Borehamwood, UK) is an impact investing platform that crowdsources loans for clean energy startups in developing countries.

Food

: 

LAM'ON Ltd

 (Sofia, Bulgarije) LAM'ON (Sofia, Bulgaria) Ltd produces and sells 100% biodegradable and suitable for compost laminating film called LAM'ON and packaging foil – PACK'ON.

Health: 

ResHub

 (Dublin, Ireland) ResHub is a resident engagement platform premised on relationship centred care, whereby providing a truly connected experience between residents, staff and families enhances resident wellness and enables personalised care delivery.

Water: 

BitaGreen

 (Leuven, Belgium) offers nature-based solutions for urban water management and quality of life.
"It is an honour to receive this Impact Shakers Award and a wonderful acknowledgement of our efforts in hydrology and nature-based solutions. With this prize package, our startup gets important support. We're really excited about working with Quest Design Studio to maximise our impact through creative design."  – the BitaGreen team
Political voice: 

The Newsroom

 (Lissabon, Portugal) The Newsroom fights misinformation and promotes plurality online.

Gender equality: 

TaskHer

 

(London, UK) champions women in skilled manual trades.

Education: 

Ecolytiq

 (Berlin, Germany) Ecolytiq enables banks, fintech companies and financial service providers to show their customers the individual impact their purchasing behaviour is having on the environment in real time.

Income & work: 

Lightning Social Ventures

 (London, UK) helps people in financial hardship to receive super fast support and recover from shocks.
"Lightning Social Ventures was founded to help people in financial hardship receive super fast support, recover from shocks and strengthen resilience – by providing a secure digital platform for charities and public sector institutions to verify need and accelerate support delivery. Having launched our beta product just four months ago, we are thrilled to win the inaugural Impact Shakers Award and to be recognised as one of the pioneering impact businesses in Europe. We would like to thank our amazing partners, funders, friends, family, mentors and the Impact Shakers team and judges for the support in our journey." – the Lightning Social Ventures team
Social equality: 

TIIQU

 (London, UK) is a trust mechanism continuously fed by blockchain-based certificates. They build trusted ecosystems for a modern, inclusive and fair society.
"We are proud to be the winners of the Impact Shakers Awards for the Social Impact category. The recognition strengthens our commitment to building an inclusive, meritocratic future where each individual can continuously evolve and increase their value. The future looks bright to our eyes: equity and objectivity will build bridges of trust across continents and ecosystems." – the TIIQU team
Housing: 

nestful

 (London, UK) helps those seeking affordable accommodation to co-live with seniors aged 50+ with rooms to spare.
"We're over the moon to win! Our first (of hopefully many) awards. Winning this is a testament to what my colleague Steve and I have been working on to support more people into affordable accommodation by sharing with people over 50 with rooms to spare. We're grateful to Impact Shakers and all those who voted for us for recognising the value to society of services such as nestful." – the nestful team
Peace & justice: 

Amurabi

 (Paris, France) bridges the gap between the law and its users: empowering all users to actually understand and exercise their rights.
"Team Amurabi is super excited, happy and humbled to have won the first Impact Shakers Award for 'Peace & Justice'! Whether we're working with the CNIL to empower under-age users to better understand and exercise their data privacy rights, training judges or creating an app to fight cyberbullying, we're deeply convinced that legal design is a powerful vector for access to justice. Thanks a million to the Impact Shakers Award Team for noticing our work in this space, and to all the public voting! We'll keep up making law accessible to all."  the Amurabi team
Networks: 

Maanch

 (Londen, Verenigd Koninkrijk) develops technology to measure, monitor and report on the impact of investments, organisations and philanthropy, through the lens of the UN Sustainable Development Goals.
" The impact economy will grow and thrive when diverse networks collaborate together to deliver the UN SDGs and a sustainable future for all. At Maanch our aim is to build and automate systems for corporates, investors and the philanthropy ecosystem. We are thrilled to receive this award and pass on the kudos to every member of our growing network for enabling responsible and ambitious growth!"  – Maanch