With summer just around the corner and lockdown measures easing allowing more people to socialise outside, garden trends and improvements are starting to bloom. Last year, we spent more time in our gardens than ever and summer 2021 is set to be no different.
In fact, Google search data shows the number of searches for terms such as 'garden ideas', 'small garden ideas' and 'garden designs' have reached an all time high over the last two years with over 2m in the UK in April .
While a garden may have many benefits for your lifestyle and wellness, recent research from the AA, home insurance provider, also showed that it can have great monetary value too. Analysis of the price of homes for sale with a garden, versus properties that didn't have a garden, showed that green space can add just over £11,000 to a property's value.
Most sought after garden items
Demand for popular garden items such as BBQs, sheds and patios remain high, with searches for these items more than doubling from before the pandemic to now. Spending on sprucing up your garden ahead of BBQs and gatherings is clearly high-up on the list for many as summer 2021 is set to be another year of garden events.
While more practical garden items have seen increases in demand, such as sheds, it's hot tubs that have seen the highest increase in demand at +629%. Following that is garden bars (+395%) and garden offices (+283%), highlighting that many people may continue to both work and socialise from home more despite lockdown easing.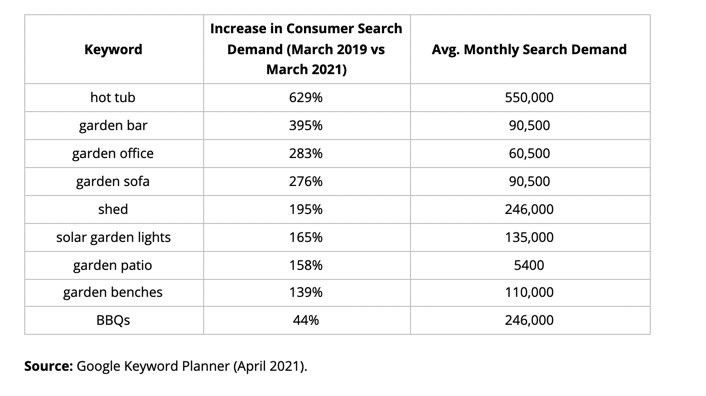 Five tips for improving your garden 
With the help of expert gardener & landscaper, Ellie Gravestock, gardens can be ready to enjoy in just a few steps. Below are five tips that she's shared to make sure your garden is all set for whatever you're planning as the weather gets warmer.
1. Start with the basics
A simple tidy up can do more than you think for your garden and help to give it a new lease of life. According to a survey from the AA, 32% of homeowners focused on improving their lawn first – suggesting the simple changes can go a long way.
Tidy up the borders, clean the patio or deck and paint the fences for a fresh, clean feel to your garden. You'll be surprised by how much it can brighten things up.
2. Check your gardening equipment 
Before you get started on things like repotting plants, digging or pruning, it's best to check your garden tools are still in good condition. As we only really garden in the summer, they can go unused for months which could render them pretty useless.
Give them a good clean and sharpen if needed. Throw out any that are broken or damaged and make a shopping list to replace them.
3. Make space for wildlife 
Whilst the rule of six visitors applies, additional guests such as birds and bees can be an excellent way to bring extra joy to your garden.
You can encourage these guests simply by using bird feeders, creating a home for bees with hollow bamboo sticks tied together with string or building a pile of dead wood in a shaded area to create a hotel for small mammals, amphibians and insects.
4. Add a splash of colour 
While you may be adding lots of colour through an array of flowers, these may not last all summer and could take a while to bloom. Adding colour through containers and pots will help, and at this time of year garden centers and DIY shops will have a wide range of affordable summer plants already in bloom.
5. Don't forget finishing touches 
Smaller finishing touches can help to make gardens feel more homely and unique, allowing you to put your own flair on what is essentially an extension of your home. Think about what cushions you might want to use for your table or bench.
Solar powered lights have surged in popularity over recent years. They come in many shapes, colours and sizes so that they add spark from day-to-night.