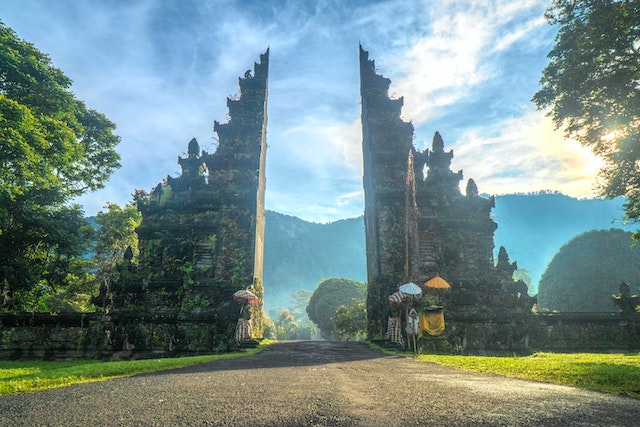 There are times in life when something special happens, and the way we choose to celebrate should not be selected lightly. The backdrop we choose can amplify the joy and deepen the emotion. Let's take a look at five key life events and where we consider the best locations to celebrate each.
#1: Birthday: Bali, Indonesia.
Bali, Indonesia, stands out as an unforgettable birthday destination. Its breathtaking beaches offer the perfect setting for both those who want to relax and unwind and those who want to experience a pumping beach party.
There's much more to Bali than just being by the beach, though. It's also an opportunity to immerse yourself in a unique cultural experience. Although Indonesia is a Muslim-majority country, Bali is a Hindu-majority province, and this means there are all sorts of unique local customs. Consider witnessing a traditional Kecak dance performance under the stars or participating in a temple celebration. Both will add a unique touch to your special day.
For those seeking privacy and luxury, Bali offers numerous private villas available for rent. These villas often come with their own pools and dedicated staff, ensuring an intimate and exclusive birthday celebration. You can lounge by your private pool sipping cocktails or enjoy a candlelit dinner prepared by your personal chef.
If you feel like embracing your sense of adventure, Bali has plenty of options. Mark the beginning of a new year in your life by trekking up Mount Batur in the early hours of the morning to watch a beautiful sunrise or visit Tegalalang's seemingly never-ending rice terraces.
#2: Engagement: Santorini, Greece.
You might already be familiar with Santorini, but if you're not, just close your eyes and imagine the most beautiful place on earth. It's an island right in Greece where, every year, visitors flock to see the beautiful whitewashed architecture contrasted with the crystal blue water. Located on the Aegean Sea, this has even become a popular area for international stars to take their yachts.
One of the most iconic experiences in Santorini is witnessing the sunset from Oia, a small village perched on the island's north side. Not only is this a great experience to celebrate your engagement, but it could even be the perfect spot to pop the question in the first place.
Given its location high up and right next to the water, Santorini is home to many cliffside restaurants with stunning views of the sea that are hard to beat. Imagine a candlelit dinner with the love of your life as you look out to the starlit sky. Is there a better way to celebrate your engagement than that?
#3: Christmas/NYE: New York City, USA.
New York City is one of the most famous cities in the world, and it's particularly special around the holidays. I'm sure anyone reading this can think of countless movies they've watched throughout their lives that have featured New York during the Christmas period.
The Rockefeller Center is a recognizable spot to check out, with its towering Christmas tree and an iconic ice rink. Just a short walk away is the Radio City Music Hall, which hosts the time-honored Rockettes show. This has been a constant spectacle spanning decades.
For some shopping, take a stroll along Fifth Avenue to marvel at designer store windows transformed into holiday displays. If the Rockefeller Center's ice rink left you wanting more, head on over to Central Park's Wollman Rink for an unforgettable experience right in Manhattan.
It's a good idea to extend your stay beyond Christmas as New York City is also one of the best places in the world to spend New Year's. If you click here, you can see it listed as one of the most impressive destinations for New Year's Eve, and it's easy to see why. The famous ball drop in Times Square is broadcast into many millions of homes all over the world, and it's the perfect spot to bring in the New Year.
#4: Anniversary: Venice, Italy.
If Santorini is the perfect spot to celebrate getting engaged, then Venice is the perfect spot to celebrate another year of the marriage's success. A very romantic city, Venice is known for its winding canals and beautiful architecture. It's a historically important city, and its timeless beauty allows couples a unique opportunity to rekindle their love.
The one must-do activity in this city is a gondola ride along the serene canals. This is the perfect atmosphere for reminiscing about shared memories and dreaming about future ventures together. Better yet, you might even get serenaded by your gondolier.
We can't mention Italy without talking about food, so be sure to make time to savor some authentic Venetian cuisine. Whether it's a plate of traditional seafood risotto or a glass of Prosecco from the Veneto region, it is sure to help make this an unforgettable experience.
#5: Family Reunion: The Cotswolds, England.
As all members of the family grow and enter different stages of life, they often end up in different locations. When the family comes back together, often it's to a holiday destination rather than the family home. This gives everybody a chance to unwind and relax rather than having to play host.
The Cotswolds in England is the perfect location for this kind of get-together. The beautiful English countryside is a nice, calming environment, and can encourage familial bonds to strengthen. Away from the fast pace of city life, families can slow down and enjoy their time with each other.
The Cotswolds has a rich history, and one of its unique features is its historic manors and large cottages available for rent. These spacious accommodations are perfect for extended families and feature both private spaces alongside communal ones where everyone can gather. Imagine sharing stories around a roaring fireplace or playing games on sprawling lawns under the sun.
These locations will amplify the celebration of each milestone and help to create memories that you'll look back on fondly later in life. Often in life, we forget to slow down and enjoy the moment, so make sure you ponder this fact before your next major life event.