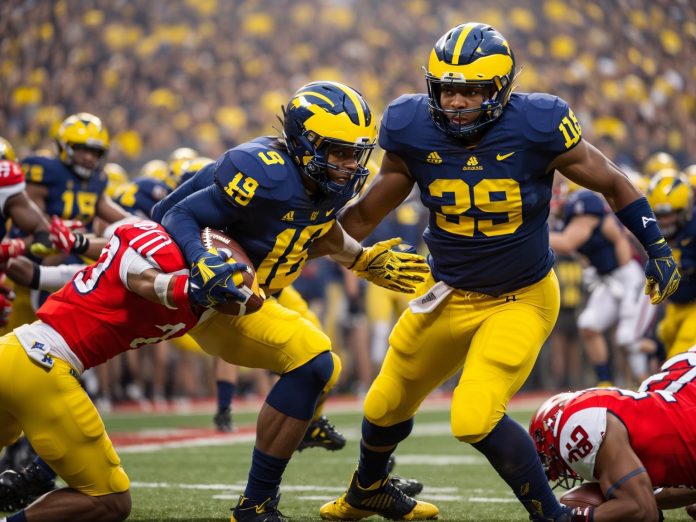 The Big Ten kicks off as the undefeated No. 2 Michigan Wolverines take on the Rutgers Scarlet Knights. With Coach Jim Harbaugh's return from a three-game suspension, this game carries added significance. Let's dive into the matchup, predictions, and key factors to watch.
Michigan's Unblemished Record:
Michigan boasts a perfect 3-0 record, having faced relatively light competition to date. Their victories against East Carolina, UNLV, and Bowling Green came with ease, with a combined score of 96-16. However, a tougher test awaits as they enter Big Ten play.
Rutgers' Strong Start:
Rutgers, on the other hand, began their season with Big Ten action. They opened with a win against Northwestern and continued their strong defensive performance in victories over Temple and Virginia Tech. Rutgers' defense has been stellar, allowing just 30 points in three games while scoring over 30 points twice.
Michigan vs. Rutgers Odds:
Rutgers: +24.5 (-115)
Michigan: -24.5 (-105)
Over: 43.5 (-115)
Under: 43.5 (-105)
How to Watch Michigan vs. Rutgers Live:
Date: Saturday, Sept. 23
Time: Noon ET
Location: Michigan Stadium, Ann Arbor, Michigan
TV: Big Ten Network
Live Stream: fubo (Try for free), Fox Sports App
Watch College Football Live Stream
Key Factors:
Jim Harbaugh's Return:
Jim Harbaugh's return to the sidelines adds intrigue to the game. His suspension stemmed from allegations of untruthfulness during NCAA investigations. Michigan imposed a three-game suspension on him, though the NCAA's final ruling remains pending. Harbaugh's presence will be a motivating factor for the Wolverines as they pursue another Big Ten championship and a College Football Playoff berth.
Turnover Concerns for J.J. McCarthy:
Michigan's starting quarterback, J.J. McCarthy, has been efficient in limiting turnovers. However, his three interceptions against Bowling Green raised concerns. With a total of five interceptions in his last four starts, McCarthy needs to regain his composure against a resilient Rutgers defense.
Rutgers' Ambitions:
Rutgers seeks its third consecutive 3-0 start but faces a formidable opponent in Michigan. The Scarlet Knights have struggled at the Big House, making this game a significant challenge. To compete, Rutgers must rely on their opportunistic defense and avoid costly offensive mistakes.
Prediction:
Michigan enters as a strong favorite, boasting an eight-game winning streak against Rutgers. Barring self-inflicted issues, it's unlikely that this streak will end. While the game might not be a complete blowout, Michigan's talent should lead them to pull away gradually. The Wolverines, motivated by a closer-than-expected encounter with Bowling Green, will look to make a statement. Prediction: Michigan -24
The clash between Michigan and Rutgers promises to be an exciting Big Ten showdown, with both teams looking to assert their dominance early in the season.