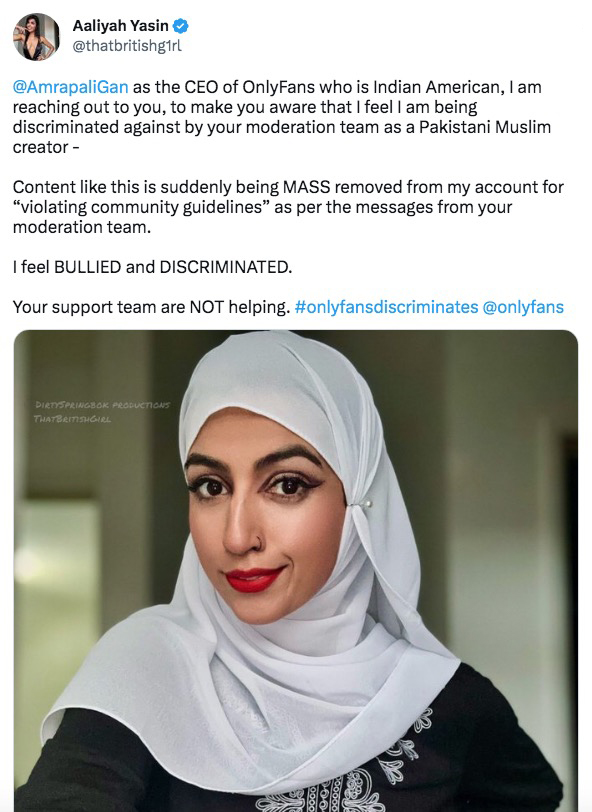 A wave of frustration is sweeping through OnlyFans creators as they allege frequent content deletions and express concerns about their livelihoods being undermined, hinting at a potential mass exodus from the platform. However, another site seems to be reaping the benefits of this discontent.
Prominent OnlyFans creators such as Rowan Odubhain and Aaliyah Yasin, boasting tens of thousands of followers, have taken to Twitter to express their outrage, claiming that their posts are being deleted on the adult platform despite not violating any terms of service. Fed up with the treatment they have received, these creators are redirecting their business to an emerging and rapidly growing alternative site called OKfans.com.
In a tweet, Rowan Odubhain shared her frustration, stating, "Love when OnlyFans removes a video claiming it breaks TOS when it doesn't, and it's active on my No PPV perfectly fine! I personally reviewed the video, and it breaks ZERO TOS or community guidelines." She further expressed disappointment with the platform's response, saying, "You take 20% of my earnings, so do better! Provide models with valid reasons for content removal instead of sending generic messages about TOS violations (when I know it clearly doesn't). Then claim you can't even look into it when you should be able to."
Rae, another model, echoed the sentiment, urging OnlyFans to provide more context for the messages sent regarding content removal. She stressed her compliance with the platform's guidelines and expressed a desire for clarification.
'Bungabooty,' a third creator, voiced her disappointment as well, revealing that her squirt videos were being removed from OnlyFans, impacting her sales negatively.
Aaliyah Yasin directly reached out to OnlyFans CEO Amrapali Gan, addressing her as an Indian American and accusing the moderation team of discrimination against her as a Pakistani Muslim creator. Aaliyah claimed that content was being mass removed from her account for allegedly violating community guidelines, and she expressed feeling bullied and discriminated against. She also criticized the support team for their lack of assistance.
Amidst the backlash from creators, some have sought a more permanent solution by establishing themselves on alternative platforms. Okfans, founded by Arian Demnika, has witnessed a significant increase in sign-ups over the past year. Arian assures users that Okfans will never ban sexual content, distinguishing it from platforms like OnlyFans that have implemented such restrictions. With approximately 1,000 daily applicants and top creators earning substantial monthly incomes, Okfans aims to provide content creators and consumers with a platform focused on adult content.
While Arian strengthens Okfans and introduces new tools for creators to engage with their fans, he acknowledges the potential consequences that OnlyFans' restrictions could have on creators' lives. The ban on sexually explicit content may result in a loss of revenue for creators, forcing them to seek alternative platforms for monetization. Additionally, consumers may lose access to content they enjoy and are willing to pay for. OnlyFans' popularity and widespread use make its absence impactful, potentially affecting the overall availability and diversity of adult content.