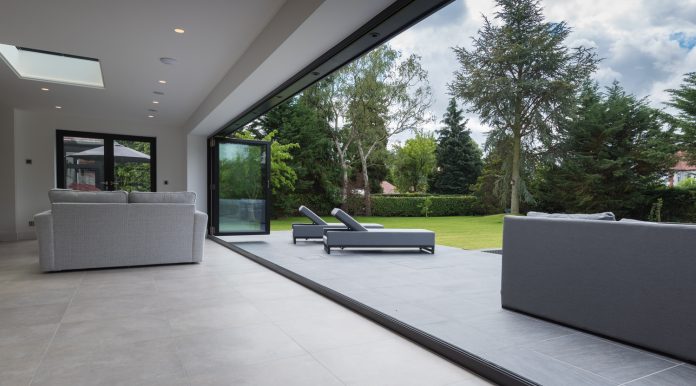 The surge in popularity of bifold doors, which seamlessly connect indoor and outdoor spaces, has left many homeowners pondering over the choice between bifold doors and sliding doors. Matthew Leach, Director of Aluminium Doors Direct, sheds light on the differences between the two options and offers expert advice on making the right decision for your space.
Distinguishing Features
Bifold doors operate by folding back like an accordion. Typically comprising two to seven panels hinged together, they glide along a concealed track in the floor, ceiling, or both. In contrast, sliding doors consist of one or more expansive glass panes that slide sideways within a frame. Notably, bifold doors require space for the panels to stack on one side, whereas sliding doors don't extend outwards.
Functionality: Pros and Cons
Matthew Leach outlines the unique features of each door style: "Bi-fold doors offer the advantage of completely folding back, essentially turning an entire wall into an open passage to your patio and garden. This creates an impressive indoor-outdoor transition. On the other hand, conventional sliding doors often allow only up to a 65 percent opening to the left or right. Pocket doors, a type of glass door that slides into hidden crevices in exterior walls, can be a useful option for maximizing space."
"Sliding doors offer greater control," he adds. "They can be opened slightly for a gentle breeze, partially for quick access outside, or fully to let fresh air in. If you opt for a bifold system, consider a 'traffic door' or access leaf, particularly if it's the sole access point to the garden."
Aesthetics and Interior Enhancement
Matthew delves into the aesthetic aspects, helping homeowners choose the right design for their interior schemes. "Sliding doors with fewer panels and larger glass expanses invite more natural light into your home, making them a desirable addition to modern and contemporary designs. Bifold doors can be pulled back to widen the opening, but they tend to expose more vertical frame when closed compared to sliding doors. Sliding doors offer a higher glass-to-frame ratio, ensuring unobstructed views of your garden or the surrounding landscape. This can enhance the visual appeal and contribute to open and spacious designs. If your goal is to maximize natural light or enjoy uninterrupted views, sliding doors often provide a better solution."
Cost Efficiency and Energy Considerations
With a focus on cost-effectiveness and energy efficiency, Matthew provides insights into the budget and environmental factors associated with each design.
"In terms of pricing, they are fairly comparable and depend on the configurations. However, sliding doors with multiple panes can become noticeably more expensive as their width increases due to the cost of large individual glass units. Sliding doors, thanks to their narrower frame, generally offer better thermal efficiency than bifold doors. However, both options can be tailored to meet specific client requirements."
To explore the diverse designs and services offered by Aluminium Doors Direct, visit their website.
About Aluminium Doors Direct
Aluminium Doors Direct stands as a premier supplier of high-quality Bifolding Doors and Sliding Doors in the UK, offering trade prices. With over 60 years of experience, their sister company, Northwich Glass, is renowned for providing bespoke glazing solutions in Cheshire and beyond.