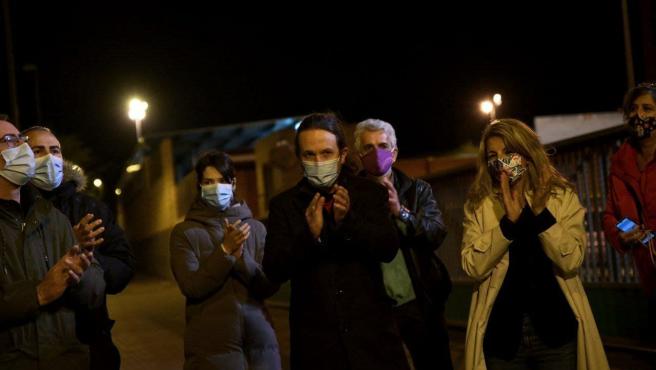 The Minister of Labor and Social Economy and third vice president of the Government, Yolanda Díaz , has asked the working class "to turn" in the Madrid electoral campaign because " health, education, public services and dignity are at risk " .
Together with the secretary general of Podemos and candidate for the presidency of the Community of Madrid, Pablo Iglesias and the members of his list Isa Serra and Jesús Santos, met last night with workers of the Vallecas cleaning service , who transferred their working conditions and the situation of services during the pandemic.
Díaz has been "delighted" to accompany these employees because "they are the ones who build and make the country." " You are our people , the lung that allows us to live with dignity every day, the people who show us with your humble work that it is possible to live with dignity.
We have to tell the people who follow us that work is the fundamental value , the most important thing. There is nothing more worthy than the fact that there are workers who carry out the work of citizenship with a certain dignity. We must tell them that there is no better and greater task than the one you are developing. I am the daughter of workers and I'm proud, "she said.
At that point, the minister has urged the working class to "demonstrate to the Community of Madrid that pride of the common good , of decent people, those who get up every day to work, to have a decent salary, to carry their children to decent public schools. "
"We ask to have a decent health care, and if we have a dependent person to be able to take them to decent residences. And that we can also have fundamental services worthy of all . You, with your uniforms, show us that it is possible to live with dignity, that we do not want great things , but the common good, from something as beautiful as doing quality work. People only want to have decent work and fundamental services, "he said.
For this reason, Díaz has urged Madrid workers to "turn over" in this campaign, because what is at stake "is decisive . " "This is not going to be a normal campaign in Madrid, and a Galician says so. We are playing something decisive, we are playing democracy. We are risking the institutions, that we never forget that they are the ones that preserve the people of our country is our only shield and, therefore, although we cannot and should not enter the campaign, I still ask that we, the workers, fully invest in this campaign, "he insisted.
The vice president also begged them not to turn this electoral campaign "into someone else's" because democracy "is very serious . " "I believe that human beings want little more than that. Those who want more things are others. We want basic public services, decent wages and develop our work with a certain quality. It seems like a small thing but it is a great thing," he said. .
"I would humbly ask you to turn to it because it is not our campaign, it is not Pablo's campaign, it is your campaign, it is your rights, it is ultimately to defend what belongs to everyone. And we are afraid to take it seriously because our education, health, jobs and our dignity are at risk, "he insisted.
After the tour with a group of cleaning employees, Yolanda Díaz has been "super honored" to meet them because "they have shown in a pandemic that they are essential services and those that every day allow the rest of citizens to have dignified lives in all city ​​neighborhoods ".
Iglesias: "The one who has stood up to the pandemic is the working class"
For his part, Pablo Iglesias, in a video also sent to the media, assured last night that he heard on television a Political Science professor say that the concept of the working class is old, that we must speak of the lower or lower middle class and that that statement bothered him.
"What this pandemic has shown something is that the one who has stood up and been on the front line so that people had a minimal decent life in a pandemic context has been the working class," he added.
The head of the list of the purple formation has reiterated that "it is a mistake to think that this campaign is about parties or some politicians better than others." "This campaign decides who and who is in charge in Madrid and for 25 years a minority has ruled because the right and the extreme right win only in 30% of the districts and cities.
I will not tell anyone which party to vote for, but I will ask that party social majority on the 4th go (to vote), because the majority of Madrilenians need public services and that the working class be taken care of. This is about the Salamanca district not deciding who wins the Community of Madrid " , it is finished.