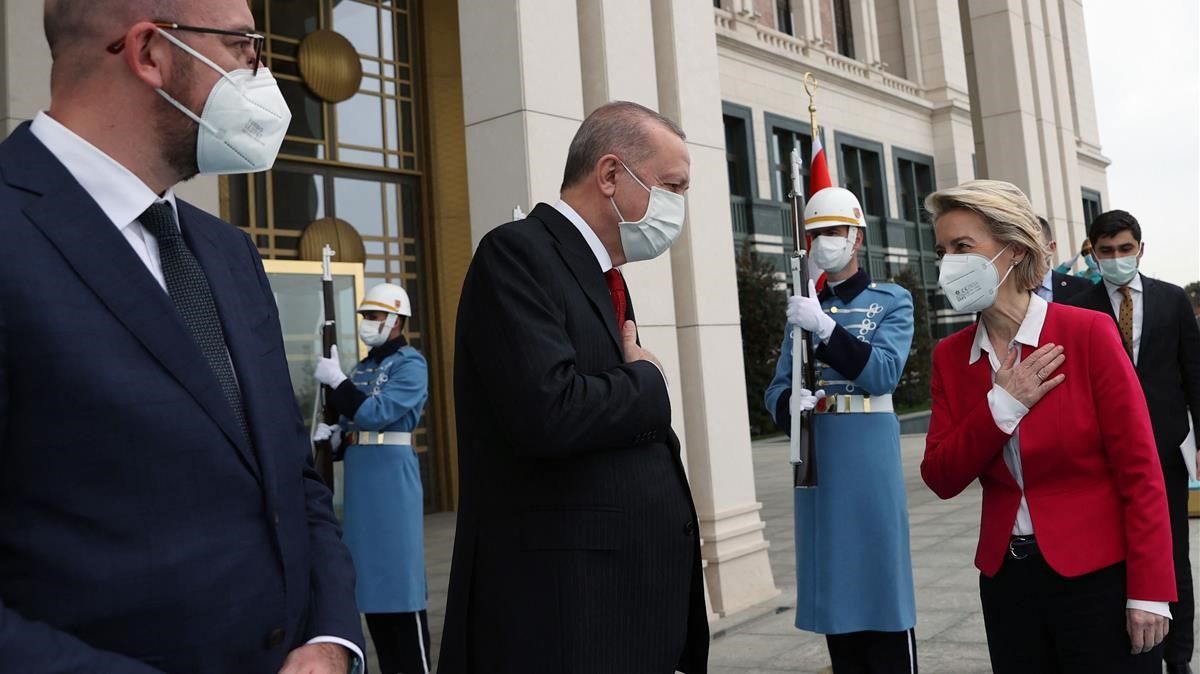 The president of the European Commission , Ursula Von der Leyen , and the president of the European Council , Charles Michael, travel to Ankara on Tuesday to meet with another Turkish leader, Recep Tayyip Erdogan . The official visit – Von der Leyen's first time to Turkey as chief commissioner – is expected to be key to the future of the stormy and complicated relationship between Turkey and the European Union .
Michael and Von der Leyen travel with two objectives on the table: one, to renegotiate the migration agreement of 2016 , whose term ends in 2021. The agreement served to almost completely stop the arrival of refugees to the Greek islands .
These, which continued to receive migrants on their shores – albeit far fewer – have under the agreement become infamous prisons , where many refugees and migrants are crammed for months and years in inhumane and unsanitary conditions .
In exchange for stopping the flow, Turkey received 6 billion euros from Brussels, with which it has financed projects to help Syrians in Turkey, such as a small monthly stipend for families and the construction of hospitals and schools. With those 6 billion nearing completion, the EU now promises more money for Turkey.
The other highlight is the renegotiation of a new customs pact that would allow the Eurasian country to export its products to the EU in a cheaper way. It would be holy water for Erdogan, who sees how his country is in an inflationary spiral and devaluation of the currency to which, for the moment, there is no end in sight. Erdogan hopes that the EU and a new customs agreement can help him get out of there.
Terms
However, not everything will be so easy. In exchange for normalizing relations with Turkey, the EU asks Erdogan to stop his " provocations ", a veiled reference to the tensions in the eastern Mediterranean and the sending, just a year ago, of tens of thousands of migrants and refugees to the border with Greece .
"We ask Turkey to refrain from new provocations or unilateral actions that break with international law. We reaffirm the determination of the EU, in the event of such an action, to use all the instruments and options at its disposal to defend their interests and those of their Member States, in addition to maintaining regional stability, "read a report published last week by the EU's High Representative for Foreign Affairs, Josep Borrell .
The report, however, did not mention Erdogan's latest attacks on the Turkish opposition or the Turkish president's decision to withdraw Turkey from the Istanbul Convention , an international agreement to fight feminicides and sexist violence.