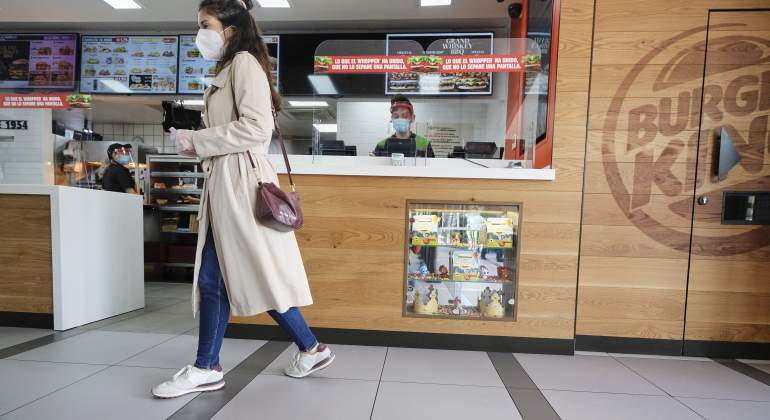 The fervent interest in healthy food and away from meat consumption has led one of the restaurant chains most linked to animal food to open its first vegetarian restaurant . Burger King, aware that more and more customers want the taste and shape of a hamburger but with vegetable ingredients , has since these days had a place in Spain where it only sells vegetarian products.
In constant renewal of its product catalog, as well as orienting its business model towards more responsible and sustainable consumption , the second largest hamburger multinational in the world now has an alternative restaurant to animal consumption. Burger King Spain has wanted to give a radical turn to its commitment to vegetarian , not vegan , with three signature foods of the firm transformed towards vegetables.
The Whopper and the Nuggets , which have been using their non-meat version since 2019 and 2020 respectively, where the Long Chicken ( called Long Vegetal for the occasion ) has now joined . 100% vegetable products but respecting the original flavor, all three are made from plants (soy and wheat) and are the work of the association with The Vegetarian Butcher , Unilever's brand of vegetable meat.
The vegetarian line reached 13 million sales in Spain only in 2020
In addition, it is worth noting the good reception of these articles that in 2020 had 4 million sales, in the case of the Whopper Vegetal, while the Vegetable Nuggets accumulated more than 9 million purchases. This was reaffirmed by the director of Restaurant Brands Iberia , a company that operates the Burger Kings firm in Spain, during the presentation of the first 100% vegetarian restaurant.
Where is Burger King's vegetarian restaurant?
A restaurant located on Madrid's Paseo del Prado, number 26 . In front of Plaza Murillo, between the sides of the Prado Museum and the Royal Botanical Garden, this place has been completely renovated to offer only vegetarian products for the next few days.
How long is the vegetarian Burger King?
And the fact is that the vegetarian restaurant will not be, in principle, permanent. On a temporary basis, its doors will only be open for one month . Thus, on November 19 it will say goodbye to its vegetable appearance, although the three flagship products of this healthy diet will continue to be sold in all Burger King Spain locations.
Price of Long Vegetable, Whopper and Nuggets
Some products that, in line with the originals, hardly cost a little more than these but remain under Burger King's low-price strategy. Regarding the new Long Vegetal, this hamburger costs 5.50 euros , while the price of the Whopper and the Nuggets is 5.95 and 4.20 euros , respectively (the Nuggets come in a pack of 9 units, the 6 units cost 3.10 euros).