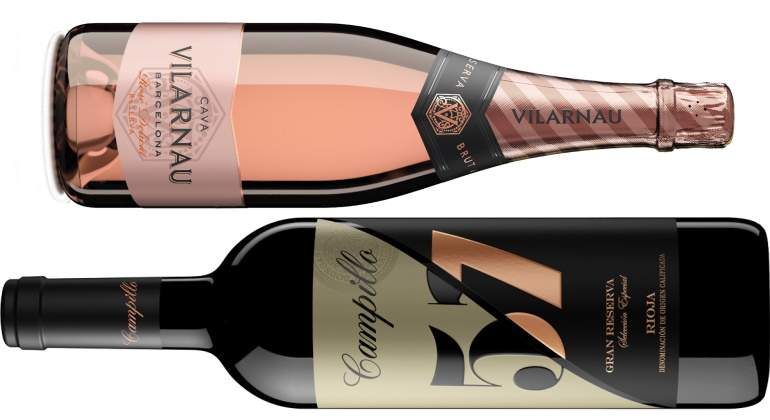 The Ministry of Agriculture, Fisheries and Food has awarded the Food Award of Spain to the Best Wine, year 2021, ex aequo, to the 'Campillo 57 Gran Reserva 2013' wines of the Rioja Qualified Denomination of Origin, from Bodegas Campillo, from Laguardia ( Álava); and 'Vilarnau Ecológico Brut Rosado Reserva' , from the Cava Designation of Origin, from Bodegas González Byass.
The Spanish Food Award for the Best Wine is a sign of the support granted by the ministry to such an emblematic product. In the granting of these awards, a jury composed of people of recognized prestige in the wine sector participated, who chose the winners among the best-scored wines in the Bacchus 2021 International Contest.
Campillo 57 Gran Reserva 2013
It is a red wine made with grapes of the Tempranillo and Graciano varieties, from the 2013 vintage. The harvest and selection is carried out manually, from grapes from the Villa Lucía and Larraz estates. The wine is aged for 24 months in French Allier oak barrels.
Belonging to the Faustino Group, Bodegas Campillo shares the family character and international prestige of the rest of the group's wineries. It is surrounded by 50 hectares of vineyards, at the foot of the Sierra de Cantabria in the heart of the Rioja Alavesa, in the medieval town of Laguardia. Owning the vineyard allows them to control from the origin to the final quality, obtaining wines with temperament and personality, of great power, richness and elegance.
The Cava Vilarnau Ecological Brut Rosado Reserva
It is obtained from a blend of the Garnacha Tinta (85%) and Pinot Noir (15%) varieties. The grapes used for its production come from our own vineyards, located in the surroundings of the cellar and certified with the Ecological Viticulture distinctive since 2015, which implies maximum respect for the biodiversity of the flora and fauna of the environment.
In 1982 Vilarnau joined the González Byass group. The winery is located on the Can Petit i les Planes de Vilarnau estate, surrounded by its own vineyards, in the Espiells area of ​​Sant Sadurní d´Anoia, the cradle of cava. Its new facilities were inaugurated in October 2005.
On the estate there are all the native varieties of the Penedés: macabeu, xarel.lo and parellada, as well as the new chardonnay and pinot noir in which the latest precision viticulture techniques are being applied. It is important to note that respect for the environment is a constant at all times, where the purification and reuse of irrigation water is an example.