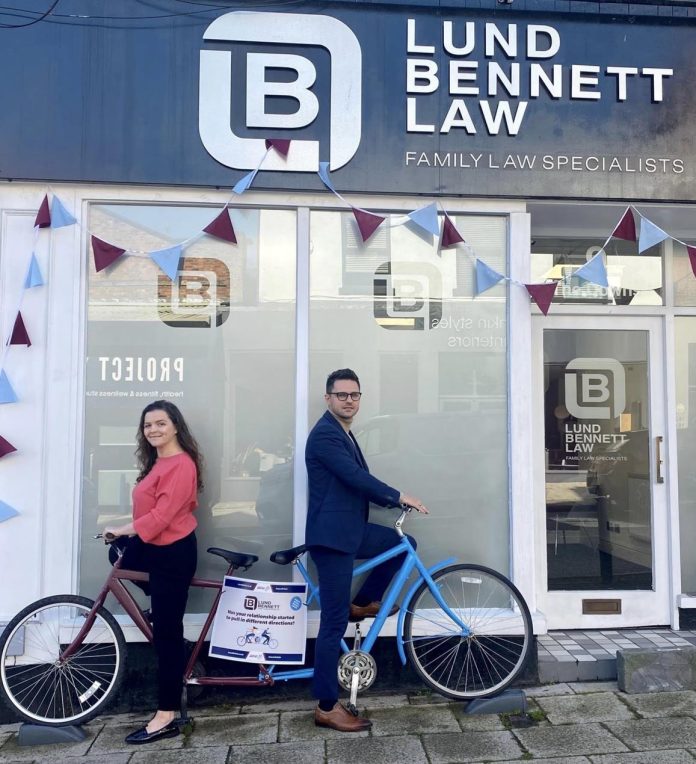 To celebrate being the host town for the Tour of Britain, Altrincham business
Lund Bennett Law
have designed their very own 'Divorce Bike'.
Featuring a double seated tandem style bike but with each handlebar facing in opposing directions, the marketing patter asks, 'Has your relationship started to pull in different directions?'.
Bringing their recent ad campaign to life, Lund Bennett's inspiration for the Divorce Bike was in response to a local competition with
Altrincham Business District
calling for each retailer in Altrincham to commission a unique bike design reflecting their business.
Managing Partner of Lund Bennett, Kirsten Bennett, said: "We are a proud Altrincham and Manchester business and always welcome the opportunity to engage with our local community.
"Our team at Lund Bennett are creative and innovative in our approach and this is keenly reflected in our first-rate service levels for our clients.  We wish all the competitors the best of luck for this weekend and we will be cheering them on from our 'divorce bike' en route!"
To arrange a family law consultation with the Lund Bennett team, call 0161 924 0079 or email 
info@lundbennett.co.uk
.