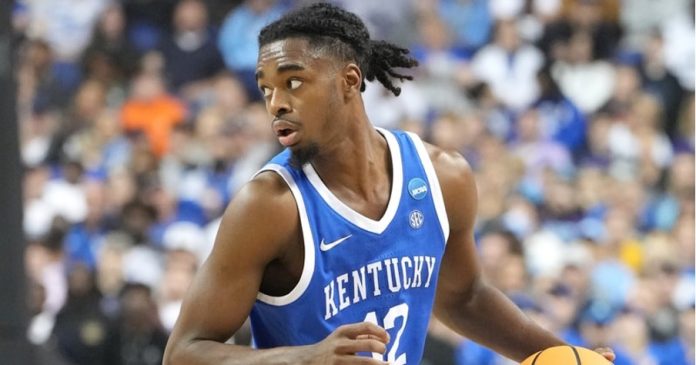 The Kentucky Wildcats are making headlines in the world of sports. Representing the United States at the 2023 GLOBL Jam in Toronto, they've shown that hard work, strategy, and teamwork can lead to incredible victories.
The Wildcats have an exciting lineup of matches. Their eyes are set on maintaining their winning momentum as they gear up to face Team Africa. The GLOBL Jam, unfolding at the Mattamy Athletic Centre in Toronto, is a tournament that fans won't want to miss. Each match promises thrilling encounters, strategic plays, and breathtaking performances.
For the Kentucky Wildcats, every game is a step closer to the much-anticipated Gold Medal Game, the pinnacle of their journey.
The Opening Victory Against Team Germany
In the 2023 GLOBL Jam, the Kentucky Wildcats carried the pride and hopes of the United States on their shoulders. Despite boasting the nation's top-ranked freshman class for the 2023-24 season, the team's victory in their opening game against Team Germany could be primarily attributed to a pair of seasoned players – Antonio Reeves and Tre Mitchell.
Antonio Reeves, already well-known among Kentucky fans for his scoring prowess, didn't disappoint, contributing 24 points with an 8 out of 16 shooting performance, including 3 successful attempts from behind the three-point line. Meanwhile, Tre Mitchell, a transfer from West Virginia, delivered an impressive performance in his Kentucky debut, scoring 20 points and securing six rebounds.
The much-touted freshman class played a crucial role in the Wildcats' 81-73 victory. DJ Wagner's versatile performance included 16 points, six assists, two steals, two blocks, and two rebounds. Meanwhile, fresh from the bench, Rob Dillingham and Justin Edwards contributed six points and four points, respectively, with Edwards also securing nine rebounds.
The Wildcats' pressure defense was a game-changer, disrupting Team Germany's offense and leading to 22 turnovers, which Kentucky expertly converted into 27 points. The first quarter saw a back-and-forth of scoring runs, resulting in a 17-17 tie. However, Kentucky's quickness and defensive pressure forced seven turnovers in this quarter alone.
Team Germany initially took the lead in the second quarter with two consecutive three-pointers, but Kentucky soon counteracted with a massive 16-2 run, largely thanks to Reeves' contribution of 10 points. This turnaround allowed Kentucky to lead 35-28 with just over two minutes left in the first half. Although Team Germany retaliated, Kentucky ended the first half with a narrow lead, 39-36.
In the third quarter, Mitchell came into his own, scoring 11 points, including three shots from behind the arc. His effort extended Kentucky's three-point halftime lead into a double-digit lead by the end of the quarter, outscoring Team Germany 25-16. Entering the final quarter, Kentucky held a 64-52 advantage.
Despite Team Germany's resilience in the fourth quarter, Kentucky stood firm, reducing the deficit to six points. The Wildcats maintained their lead, ultimately securing an 81-73 victory, reinforcing their standing as strong contenders in the tournament.
Given their impressive track record in the 2023 GLOBL Jam, the Kentucky Wildcats have emerged as favorites for the title. This positive shift in momentum also introduces a new betting landscape, with the soon-to-be-live Kentucky Betting Apps set to provide basketball fans with sports betting options.
Win Against Canada
During their recent match in the GLOBL Jam, the Kentucky Wildcats showcased their resilience and strategic acumen, triumphing over Team Canada in a decisive 93-69 victory. Veterans Tre Mitchell and Antonio Reeves, who had previously led the Wildcats to a winning start against Team Germany, continued to make significant contributions. However, this match demonstrated a much more balanced offense, as many players stepped up to bolster the team's performance.
Antonio Reeves led the charge with an impressive 23-point tally, but this was not a one-man show. Justin Edwards, Reed Sheppard, and Adou Theiro played instrumental roles in the Wildcats' offensive masterclass. Edwards scored 16 points and five rebounds, while Sheppard added 14 points, four assists, four steals, and two blocked shots. Theiro contributed 11 points, six rebounds, and five assists, completing the team's comprehensive victory.
The Wildcats' DJ Wagner and Rob Dillingham contributed nine points and six points, respectively. Moreover, Dillingham skillfully orchestrated the team's offense, registering a game-high nine assists. The Wildcats achieved a remarkable total of 27 assists on 35 made baskets, highlighting their exceptional teamwork.
The Wildcats employed a dominant defense strategy, forcing 21 turnovers from Team Canada, which they converted into 23 points. Contrastingly, Kentucky had only nine turnovers, resulting in a mere eight points for Team Canada.
The match saw a flurry of strategic plays and thrilling moments. Despite Team Canada taking an early 4-2 lead, Kentucky quickly responded with a six-point run, sparked by Dillingham, to take the lead. The Wildcats displayed their shooting prowess, with Sheppard and Reeves firing threes to surge ahead 21-12. The team's impeccable shooting skills led to an early nine-point lead. Even when their scoring momentum slowed momentarily, Kentucky managed to hold on to their lead, ending the first quarter with a 24-16 advantage.
The Wildcats further asserted their dominance in the second quarter, extending the lead to 28-16 through baskets from Theiro and Edwards. The Canadians, however, launched an 8-1 run to narrow the deficit. In response, Kentucky retaliated with decisive baskets from Edwards and Theiro, reclaiming a commanding 39-26 lead.
Maintaining their lead into the third quarter, Reeves and Theiro, with six and five points, respectively, helped Kentucky to extend their advantage to 71-49. Kentucky began the final quarter with a 7-2 run, underlining their dominance and effectively sealing the victory.
After two victorious matches, the Wildcats prepare for their next match against Team Africa. With a rest day on Friday, they are gearing up for the Saturday face-off, scheduled for 1:30 p.m. ET. The forthcoming match promises to be exciting, with the Wildcats aiming to maintain their winning streak in the GLOBL Jam.
The Road Ahead
As the GLOBL Jam progresses at the Mattamy Athletic Centre in Toronto, the Kentucky Wildcats have an exciting lineup of matches ahead. Their remaining schedule begins on Saturday when they face Team Africa at 1:30 p.m. This match promises to be a thrilling encounter, with the Wildcats aiming to maintain their undefeated record in the tournament.
The event's highlight will be the final match, the much-anticipated Gold Medal Game, scheduled for 8 p.m. on Sunday. With their remarkable performance, the Wildcats have made a compelling case for their appearance in the grand finale. Fans can tune into CBS Sports Network to catch all the live action, ensuring they don't miss a moment of these enthralling encounters.