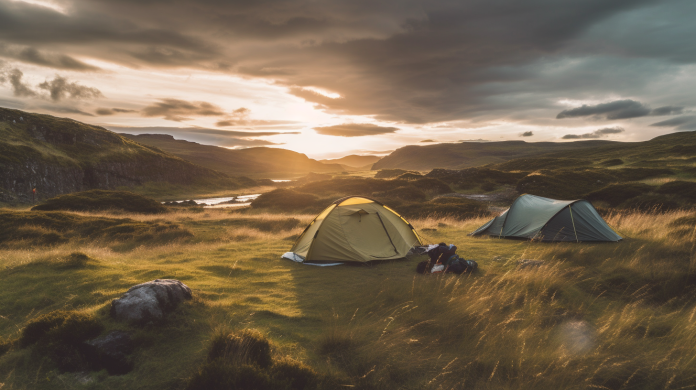 According to a recent camping poll conducted by Ubuy, nearly half of Brits go camping at least once a year. The research, which surveyed 2,000 Brits, revealed that 42% of them engage in camping annually, with the Lake District being named their favourite camping destination.
While many Brits camp once a year, some individuals go camping even more frequently. More than 10% of respondents reported camping at least every two months, averaging six camping trips per year.
As camping season approaches and with the ongoing cost of living crisis, millions of people may be planning their first-ever camping trips. To assist these individuals, the experts at Ubuy have compiled a comprehensive packing list of essential items.
A spokesperson from Ubuy, an online shopping platform, stated, "There are numerous lists available that outline essential items such as tents and cooking stoves. We believe it's important to provide a list of essentials for first-time campers. However, camping is meant to be enjoyable. That's why we added non-essential items to our list that can enhance the camping experience, such as a mini speaker."
The spokesperson continued, "According to our data, over a third of Brits use Spotify, and with apps like that, you don't even need signal to listen to music. Therefore, we included entertainment options and other items that may not be necessary but could enhance your camping trip."
Ubuy's Packing List:
Essentials:
Tents and other tent components
A mallet
Spare tent pegs (just in case)
Sleeping bags
Sleeping mats
Torches and lanterns
Pillows
Extra blankets (in case of cold weather)
Camping chairs and table
Water container
A cooking stove
Gas for your stove (or wood/charcoal for cooking on fire)
Crockery and cutlery
Pans
Coolbox and ice (to keep fresh food cold)
Camping kettle
A bowl for washing up
Heatproof glove
Sun cream
Insect repellent
Small first aid kit
Hand sanitiser
Towel
Toiletries
Portable charging device (to keep essential devices charged)
Entertainment:
This section of the list includes non-essential but enjoyable items.
Mini Bluetooth speaker or pair of headphones for music
iPad or similar device with downloaded movies
Pack of cards (portable and offers hours of entertainment)
Football (for various games and compact to carry)
Board games (travel editions)
Frisbee
Good pair of hiking boots (for outdoor walks)
Paddleboard (for camping near water and if space allows)
Paper and pens for drawing, writing, and colouring (for all ages)
The spokesperson concluded, "As camping season approaches in the UK, we hope everyone planning a trip has a brilliant time."
Note: The article is based on a camping poll conducted by Ubuy and includes the packing list provided by Ubuy for essential camping items and additional entertainment options.