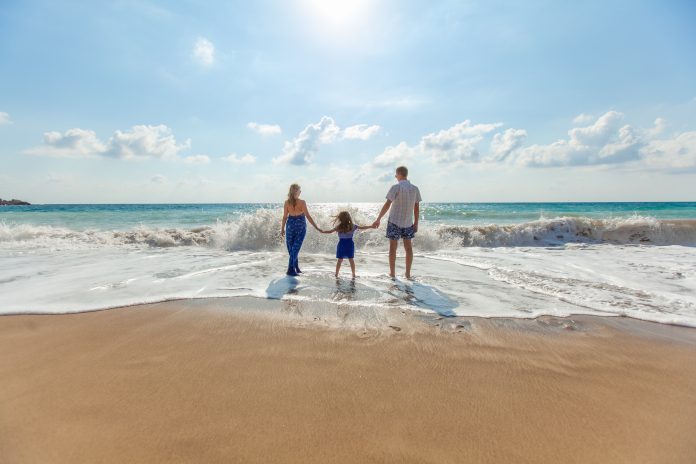 Winter can be a tough season for the temperature; during the coldest months, the UK reaches a low average between 2 and 7 degrees Celsius. This might make many of us reluctant to leave our homes for the most part, but we should take advantage of sporadic opportunities to enjoy healthy walks in the great outdoors.
Walks in the winter can be a special time, especially when made into a family bonding activity. Not only can our immune system activate itself when exposed to the cold (meaning an improved ability to fight off infections), but parks, beaches and forests often look truly breath-taking in the bright winter light. When your health, heart and sight can be satisfied, why wouldn't you want to embark on a winter walk?
Here are some of the best places to visit across the UK.
#1 Heddon Valley, North Devon
Whether you're seeking an appropriate area to take the kids for a short trail, or somewhere that would accommodate a longer, more experienced hike for you and your friends, North Devon's Heddon Valley is a walker's hot spot, and for very good reasons.
Drink in the fresh air as you explore soaring cliffs, riverside paths, and a pebbly beach. Choose between three available trails, from two to six miles long, and refuel your bodies with some delicious pub grub from the historic Hunters Inn.
#2 Beatrix Potter Walk, Sawrey, Lake District
The Lake District is one of the most magical places you'll ever visit – especially during wintertime. Nestled in Cumbria, North West England, it's known for its ribbon rivers, monumental mountains, and fantastic forests.
If you want to make the most of your wintertime outdoor adventure, visit Beatrix Potter Walk in Sawrey. Beatrix Potter, one of the world's best-selling and most cherished children's authors, was inspired by the enchanting landscapes of the Lake District. Choose here for your winter walk and enjoy the sights and sounds that motivated some of her best literature.
#3 Glencoe Lochan, Highland
If you're based in Scotland, or fancy booking a trip there, we recommend Glencoe Lochan for a brisk winter walk to get the legs moving and the heart pumping. A truly beautiful sight, weaving in and out of trees bursting with life in the tall woods before taking a break to admire the breath-taking glacier lakes.
The area offers three different trails, so there's something for everyone. If you're looking to take the whole family – kids included – you should explore the Lochan Trail, which is described as 'gentle' with a wide, firm, and generally flat path. If you're searching for something a bit more strenuous, you can pick between the scenic Woodland Trail and the charming Mountain Trail.
#4 Strangford Lough, County Down, Northern Ireland
You wouldn't believe this fairy-tale spot is just a short distance from the lively, bustling Belfast. Book a weekend trip to the city and make time to visit this secluded island for a winter walk you'll never, ever forget. As your boots crunch along the solid ground, tilt your head and embrace the sounds of the local wildlife as they greet you and your family.
To make this trip a success, make sure you pack all the necessities! Find an appropriate weekend bag for women and load up on warm clothing, snacks, and water to keep you and your family hydrated and fuelled during your walk. This place couldn't be more Instagrammable, so it's also a good idea to ensure your phone or camera is fully charged before you embark on your adventure.
#5 Three Cliffs Bay, Swansea
Beaches aren't just for the summertime! Three Cliffs Bay in Swansea offers a picturesque walk that might make Wales your new favourite place in the UK. Mindfully stroll through the sandy beach and stop to take a moment to appreciate the iconic three limestone cliffs.
While Three Cliffs Bay is an incredibly photogenic location, be careful not to see too much of it through a screen and not with your own eyes; take a deep breath in and let your eyes wander across the panoramic views of something so very close to paradise.
#6 Blakeney Freshes, Blakeney, Norfolk
If you're fond of birds and their beauty, visiting Blakeney Freshes in Norfolk should be at the top of your bucket list. This coastal walk delivers tranquillity as well as thriving wildlife, giving you and your family the very best of both worlds.
The full trail comes in at three miles long, which will last you roughly one hour and 45 minutes. If you have a family dog and you don't want them to miss out on all the fun, bring him or her along too! This walk is paw-fect for everyone.
#7 Embleton Bay, Northumberland
Northumberland is an area in North East England that's steeped in rich history, some of which you can encounter by arranging a walk at the iconic Embleton Bay. This entire adventure would take roughly three hours and 45 minutes to complete, so you should consider that when arranging who to bring along with you.
Enjoy panoramic views of the sea as you amble along the gentle coastal paths, and don't forget to stop for a moment to appreciate the stunning views of the ruined 14th-century Dunstanburgh Castle that backdrops part of the trail.
Dust off the hiking boots and winter gear
Walking is good for both our heart and soul, so don't be put off by the cold temperatures this winter. If you wear suitable shoes, wrap up warm, and carry plenty of supplies (such as spare gloves and water), you should be absolutely fine.
In fact, you'll be more than fine! You'll have a stronger immune system, a healthier heart, and family memories that will last forever. We hope you have a wonderful time.