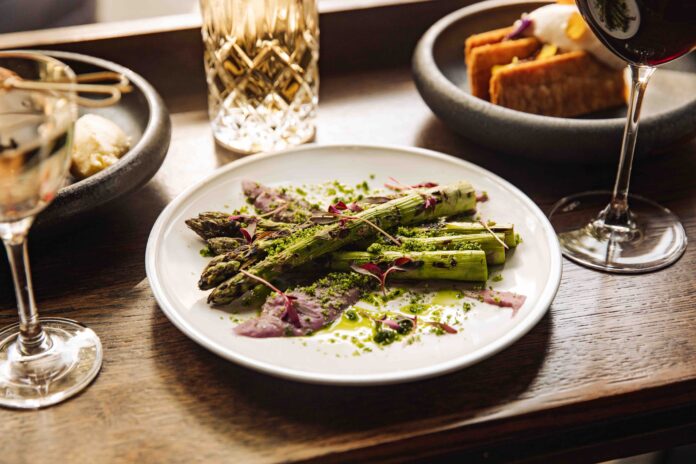 In honour of Earth Hour (25th March) -the worldwide movement encouraging people to switch off their lights to conserve energy – head to Gaucho Charlotte Street on Wednesday 29th March for a very special instalment of its Sustainable Supper Club. Switching the lights off for one night only, protect the planet and enjoy perfect plates, all under the glow of candlelight.
Throughout the supper club, enjoy a three-course sustainable and seasonal menu for £50pp, with an optional drink pairing from Glass Half Full, available for an additional £20pp. A must for environmentalists, foodies and romantics alike, savour every mouthful and make a positive impact on the planet whilst immersed in the magic of twinkling candlelight at this special Sustainable Supper Club.
Kickstart your sustainable soirée with a selection of canapés and a crisp glass of the Sapling Elderflower Spritz, followed by three stand-out zero waste plates, paired with serves such as a Two Drifters Daquiri, aMalbec from KeyKegs and a warming Nc'Nean Whisky Pasqua.
Canapés
—
Zero waste sourdough served with roast potato butter
—
Curried seabass soup, coconut milk with a sourdough crouton
—
Entrana steak, fat chips and swede purée
—
Rhubarb and apple crumble, apple peel crisps with coconut sorbet
—
This special Earth Hour event is part of Gaucho's recurring Sustainable Supper Club series, taking place on select dates throughout the year, and is priced at £50pp, with a drink pairing available for an additional £20pp.
Book your table now at www.gauchorestaurants.com

Distributed by Roche Communications on behalf of Rare Restaurants, 27th February 2023
Gaucho
www.gauchorestaurants.com / @gauchogroup
For more information, please contact Alissa Stroud or Lara Mills at Roche Communications on
020 7436 1111 or firstname@rochecom.com
About Gaucho  
Gaucho came to life through a genuine appreciation of Argentina; its people, their lifestyle, culture and rich food and wine offering. After witnessing first-hand, the gaucho way of life, spending time exploring the pampas region at the foothills of the dramatic, mineral rich mountain ranges, visiting working farms and vineyards, the desire to bring these influences to London was born, and the first Gaucho opened in 1994 in Piccadilly. The collection of restaurants in the UK has grown to twelve in London and six regional sites in Leeds, Manchester, Birmingham, Edinburgh, Glasgow, Liverpool and Newcastle (opening March 2023). The restaurant group continues to serve some of the finest beef in the world, now complemented by a broader food and wine offering in a contemporary setting, inspired by modern Argentina and all of its global influences.