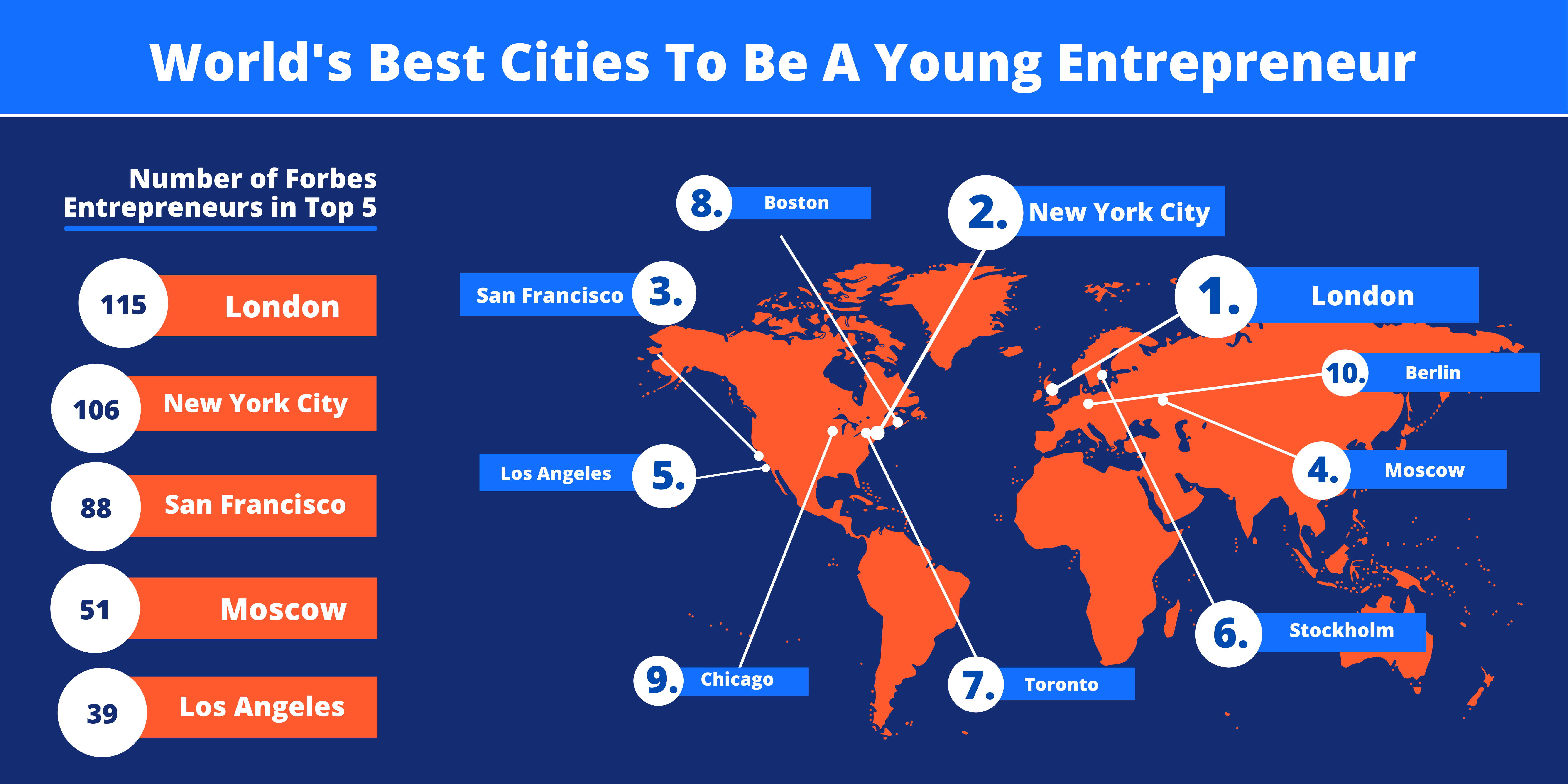 Using the Forbes 30 Under 30 lists from Europe, North America, Russia, Asia and Africa, the business-comparison experts at Bionic conducted research into the world's greatest young entrepreneurs. 
Bionic looked at the industry, city, country, university-education, and gender of each young entrepreneur. It was able to identify the best places to be a young entrepreneur depending on your industry and gender, and which industries and universities are best for career success.
IT and Technology was the most popular industry overall, with 20% of Forbes 30 Under 30s working in this area
Of these, 9% of young entrepreneurs worked in Enterprise Technology, while 7% worked in Consumer Technology. Young people hoping to work in this sector should also consider the below universities, as they were the most popular among successful tech entrepreneurs under 30:
1. Indian Institute of Technology
2. Harvard University
3. University of California
4. University of Waterloo
5. Korea Advanced Institute of Science and Technology
Just 14% of all entrepreneurs across every industry did not possess a university education – but this figure may be even lower as some Forbes candidates did not have education data.
Among the top universities for tech entrepreneurs, two of them are North American, one is Canadian, another Indian, and another South Korean. North America is by far the most popular place for tech entrepreneurs to live, with most living in the United States.
The best countries in the world for young entrepreneurs to work across all industries were North America (41%), United Kingdom (14%), Russia (10%), India (7%) and China (2%), according to Forbes data. Meanwhile, the best cities in the world were London, New York, San Francisco, Moscow and Los Angeles.
Europe was the most female-inclusive place for entrepreneurs, with 37% of the entrepreneurs studied in Europe being women. Africa and Asia tied at being the least inclusive, with just 27% being women. In Africa, the majority of candidates came from Johannesburg, South Africa. In Russia, Moscow was the most popular city. North America had the greatest decentralisation, as start-ups flourished across the continent.
Arts & Culture was the most female-inclusive industry with 57% of entrepreneurs being women. Despite being the most populous industries, Manufacturing and Technology were the least inclusive industries with just 20% of entrepreneurs being women respectively. While tech is still reigning as the most powerful industry and the one with the most potential for aspiring entrepreneurs to succeed in, there seem to be far fewer leading female entrepreneurs. On one hand, this may be down to a lack of inclusivity, but it also creates great opportunities for more women to enter the tech arena.