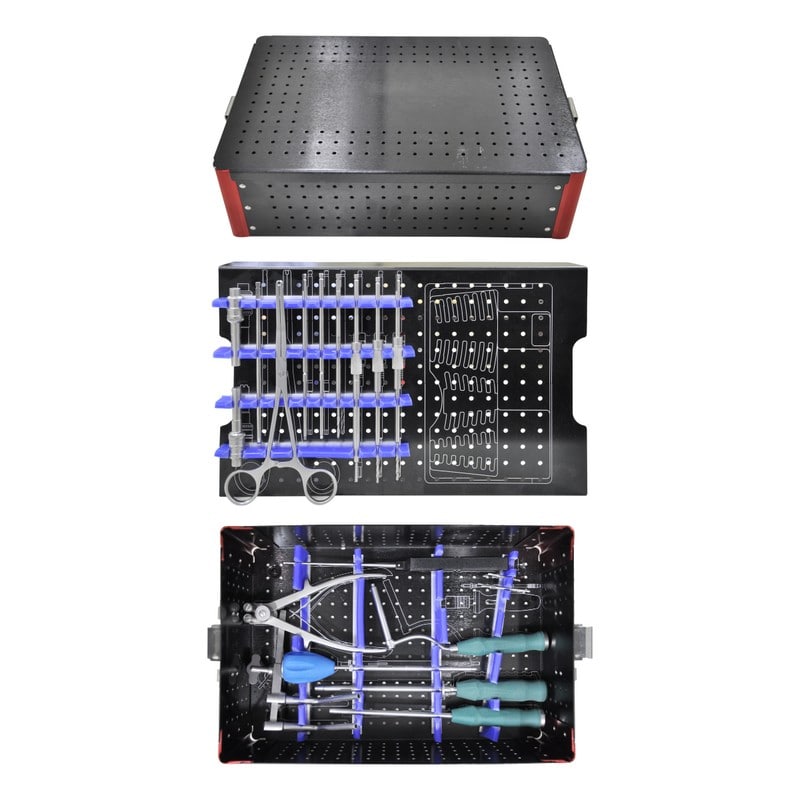 Cervical plates are orthopedic devices that are used for spinal instrumentation and fusion procedures. They are designed to provide stability to the neck when a person suffers spinal problems in the cervical region. These plates are held in place using orthopedic screws that are applied to the holes present in the implants. To apply these plates, dedicated cervical plate instruments are required.
Siora Surgicals Pvt. Ltd., an Indian-FDA-approved manufacturer of a huge range of orthopedic surgical instruments and implants has added an international standard quality Cervical Plate Instrument Set to its AURASPINE spinal implants category. Made using medical-grade metal alloys as per ISO 13485:2016 standards, this set is also available for exports to clients based in different countries. Some of the instruments included in this set are:
Bone Curette Straight 3.0 mm

Cervical Parallel Retractor

Rod Bender – Length 170 mm

Straight Probe

Maker Impactor

Quick Coupling Handle – Length 125 mm

Drill Guide

Plate Holding Forceps

Threaded Distraction Pin – 3.0 mm X 60 mm
This set is manufactured using advanced machines under the guidance of skilled engineers. That is why Siora is known to produce highly precise quality products. The Cervical Plate Instrument Set offered by the company is also stringently tested against set parameters to ensure its world-class quality. The instruments are designed to provide ease to the surgeons during spinal implantation and ensure effective results.
Siora Surgicals Pvt. Ltd. is an India-based orthopedic device manufacturer with a huge inventory of implants ready for supply. The company has its own brands, and the products that fall under them are manufactured in a well-established manufacturing facility based in the RAI District, Sonepat, Haryana. The cervical plate instrument set manufactured by the company is tested by many orthopedic surgeons, and they found it great. Siora loves to innovate, and this is how they are able to produce orthopedic implants that show improved results. The company also holds expertise in meeting specific requirements of orthopedic surgeons and distributors. Thus, it is proud to have many clients associated since its inception.
With over 30 years of experience, Siora Surgicals has also marked its name as one of the best OEM service providers around the globe. Thus, it won't be wrong to say that Siora is a one-stop-shop for all your orthopedic device needs. The company is also looking to become one of the best Orthopaedic Device Companies in France for supplying an international standard quality range of trauma implants.