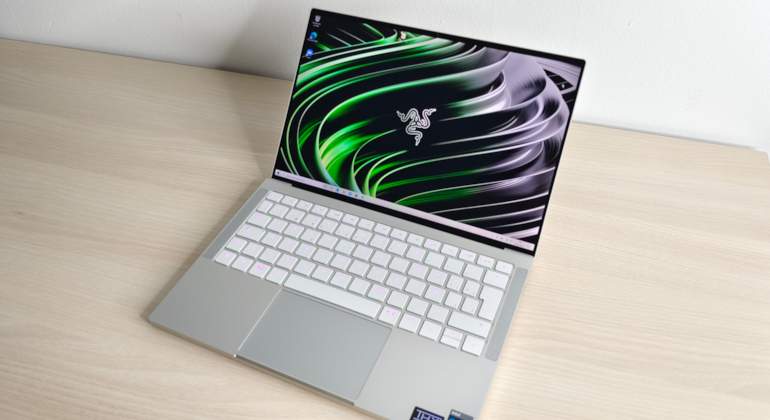 The new Razer Book, with a starting price of 1,799 euros, is one of the most striking productivity notebooks of this 2021, something surprising considering the level that the industry has reached thanks to sales growth and telecommuting. Maybe it's coming from a brand that normally has other things in mind.
Razer is a name that we normally associate with gaming products, such as ultra-fast keyboards and mice for professionals, or laptops like the Razer Blade 15 , which mixes striking design with the performance we can expect from the best hardware. With its black and green style, and the three snakes logo, it is not what we expect to find in an office.
And yet the Razer Book would fit the bill perfectly. In fact, it may become your new favorite laptop, and all without a bit of "gaming". The Razer Book is a small and light 13.4-inch laptop that packs a lot of surprises and makes a mockery of many brands that have been focused on the office for decades.
Exceptional quality
Manufacturing quality, for example, is on another level. Made of anodized aluminum , profiled by CNC, the feeling it gives in the hand is of absolute quality. But a laptop for work is going to be abused, and Razer knows it; It has not given me the feeling that it will break easily, and it feels robust, perhaps because it was manufactured in one piece (excluding the screen, of course).
The 1.34kg weight is higher than I expected from a laptop of this size, but it's not the worst I've seen either. I can say the same about the thickness, which is not even close to the Lenovo ThinkPad X1 that I recently tested, but which, in return, allows offering a greater variety of connections ; we have full-size HDMI 2.0 and USB-A, for example, a must-have for the target audience.
The USB-C ports could not be missing, and I like that there are two, one on each side, but much more that they are Thunderbolt 4 to offer the highest possible speed and compatibility. To curl the curl, we find a microSD card reader, ideal if we use the laptop to edit the photos of our camera.
Big screen to work
The small size of this laptop may make us think that the screen is too small to work, but the truth is that Razer has made good use of the available space, thanks to an absurdly thin frame.
The 16:10 aspect ratio also helps a lot , somewhat higher than what we are used to and which makes it easier to view pages and work with documents. The presence of Gorilla Glass 6 is very striking to protect the screen, which can be tactile or not depending on how we configure it.
We can also choose between two resolutions, FHD and UHD, the latter the one we have been able to test; it's basically 4K with a bit more height, and it looks as good as we could hope for. In fact, perhaps 4K is too much for this size, and we recommend playing around with the scale of the size of the Windows interface; By default, everything will appear small and it may be difficult for us to read the text.
In terms of colors and contrast, this is a screen very close to being ideal, both to enjoy content such as series or movies, as well as to work. Of course, I would have liked a little more brightness , since even the maximum level can fall short in some situations, especially if we use it outside.
At least, we have the addition of the touch screen , although its usefulness will depend a lot on the type of work you do with the laptop; keep in mind that this model does not open as a "two in one".
Powerful and capable
The Razer Book is based on the Intel Evo platform and as such fulfills several mandatory features for all manufacturers. For example, Razer promises 10 hours of battery life, although, as always, that will depend in large part on what we do. It also implies that, for the processor, we can choose between one of the new Intel Core, either an i5 or an i7 (although at the time of writing these words only the latter is available).
The model we have tested is the Core i7-1165G7, and it is as fast as we expected. Like its generation peers, it is a more capable processor when reliant on a single core, while on multicore it has been outmatched by its AMD equivalents. However, the choice of Intel is not a mistake on Razer's part, especially because of the possibility of using the Intel Evo platform and the compatibility with technologies such as Thunderbolt 4, instant wake-up, or fast reload.
In addition, this equipment has a good cooling design , and even when I have "rocked" it, I have been able to use the keyboard without much discomfort; the part that really gets hot is a bit above the keyboard, but again, it shouldn't be a problem in everyday use. For regular work, this laptop responds very well and will not leave us stranded under any circumstances.
The keyboard has also caught my attention, with a well-achieved tactile sensation, although the size of the keys does not convince me; maybe it was necessary to fit the speakers on both sides, pointing up to get the best THX sound . Where Razer remains unbeatable is on the touchpad, which offers a great feel to the touch.
Security is the facet that perhaps Razer should take more care of next time. We have very few options compared to the rest of the alternatives. We do not have a Kensington lock slot, or a fingerprint reader; the only security option we have is the webcam, which is compatible with Windows Hello to log in with facial recognition. And still, Razer has forgotten to put a lock on the webcam, to prevent it from turning on or recording us without our consent. Those are all things we already expect in a productivity and work laptop, and it's surprising not to see them here.
At least, this being a Razer product, we have RGB lighting . Indeed, "lights" on a productivity laptop is rare to see, but the Razer Synapse program allows us to configure them in the color and power we want, in addition to controlling other aspects of the laptop.
Other style
The Razer Book doesn't look much like other productivity notebooks, despite, in theory, appealing to the same type of user. But that is precisely what makes it so attractive. This is a unique laptop in the sector, and the only comparison I can think of is with Apple's MacBook Pro, or with the Dell XPS 13.
When Razer introduced its new gaming headsets, the Barracuda X , it claimed that it was expanding beyond the gaming industry . Launches like this Razer Book, or the Pro range of keyboards and mice, are proof that the experience gained over all these years can be applied to a different type of product. You still have a lot to learn, and adjust your priorities a bit, but Razer has a bright future ahead of it if it decides to continue to seek new horizons in this way.
For the user looking for a beautiful work laptop with an impressive display and a lightweight package, the Razer Book is a great option.
The Razer Book is available from 1,799 euros.