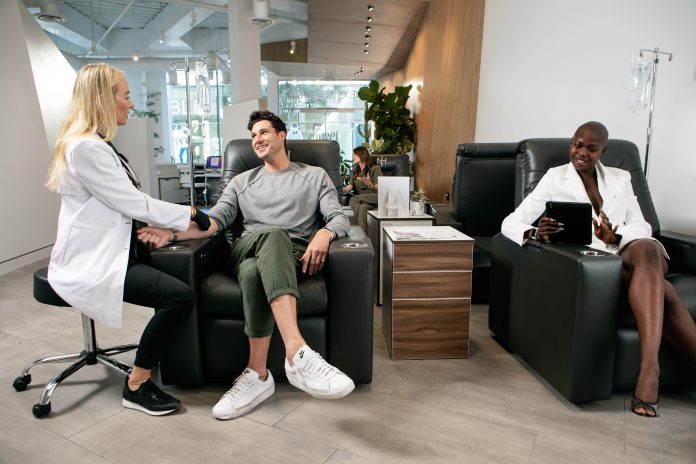 Next Health, the unparalleled aggregator and provider of preventive health optimisation for the masses, is excited to announce its groundbreaking multi-unit Area Development Agreement for the United Arab Emirates (UAE) territory. This agreement signifies the official commencement of Next Health's highly anticipated expansion plan, which encompasses both domestic and international franchising as well as master franchising.
Amidst the rapidly growing global demand for accessible and personalised healthcare, Next Health curates health-optimisation and longevity treatments that were once exclusively available to the privileged few and brings them together in a convenient retail setting. By demystifying the medical experience within its visually captivating environment, Next Health strives to proactively address health concerns and empower individuals from all walks of life to live healthier and longer. Some of its state-of-the-art wellness tools include:
Cutting-edge medical services like stem cells and ozone therapy
A diverse range of aesthetic treatments, including botox and fillers
Top-tier health treatments and technology such as biomarker testing and NAD+
Next Health's expansion plan aims to make its innovative services accessible to markets throughout the U.S. and around the world. These advanced services can be availed both à la carte and through recurring membership options. The inaugural multi-unit development agreement has been signed with SAAS Healthcare Investment, a subsidiary of SAAS Holdings, which is a visionary development group led by Ahmed Bin Mohammad Al Qassimi. The first-of-its-kind Next Health location in the market will be situated within SAAS Tower in Dubai's Business Bay, and it is scheduled to open next year. Two additional locations within the UAE will follow.
With the support of Next Health's experienced team and proven business model, SAAS Healthcare and all other franchising groups will receive comprehensive support in their scaling efforts, ensuring the availability of these transformative services for all.
Scott Svilich, COO of Next Health, commented, "This pivotal step in Next Health's expansion plan will have a profound impact on customers worldwide, transforming them into our valued patients. Coming from Xponential Fitness, the largest global franchisor of boutique fitness brands, I bring years of experience in franchise scaling. The franchising opportunity with Next Health sets itself apart from any other option in the industry by integrating every aspect of health optimisation into one outstanding business with exceptional unit economics. We are exclusively seeking partnerships with wellness-oriented entrepreneurs who share our passion for revolutionising healthcare as we know it today, for the better. We found all that and more in our collaboration with SAAS Healthcare, and we are excited to work with their team for years to come while serving the vast UAE market."
This agreement marks a significant stride aligned with the UAE National Innovation Strategy, as Next Health introduces disruptive innovation in healthcare and wellness technology to enhance the health and lifestyle of both nationals and residents.
Ahmed, from SAAS, stated, "At SAAS, our mission is to enable healthy lifestyles of the future, today. Customers rely on SAAS to invest in their long-term health, whether it's building vibrant living communities or making Next Health services accessible to everyone. The health and wellness of our customers is our North Star metric. When exploring other franchising opportunities within the same industry, we found that only Next Health fulfilled all the essential health optimisation pillars. Its comprehensive offerings and industry-leading team made us confident in our decision to move forward together as partners."
With established locations in Los Angeles, New York, and Maui, Next Health stands as the foremost name in the health optimisation industry, catering to both celebrities and professional athletes. Next Health providers collaborate with patients to optimise their health by establishing a "baseline" of their current health, creating a data-driven treatment and longevity plan, and utilising Next Health's proprietary software to provide each patient with a personalised dashboard showcasing their biomarkers, long-term wellness plan, and progress over time.
Next Health offers franchising opportunities in various major markets in the U.S. and overseas, aligning with its mission to empower individuals to achieve optimal vitality and longevity through a personalised, data-driven approach to healthcare.
For franchising opportunities, please visit Next Health Franchise or email franchise@next-health.com.