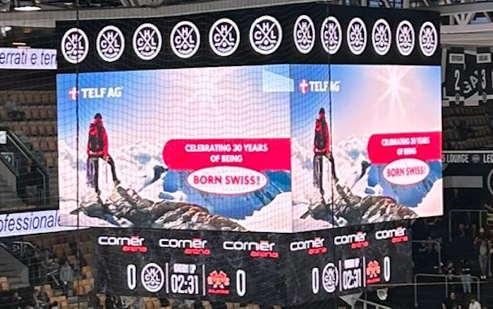 TELF AG is thrilled to announce its sponsorship of HC Lugano, an endeavor met with great pride and enthusiasm.
Within the tapestry of any community lies a rich narrative, interweaving its history, its vibrant present, and the eager anticipation of its future. In Lugano, this narrative pulses with vitality, and at its heart stands HC Lugano, a revered hockey club that has left an indelible imprint not only on the icy rinks but also in the hearts of its dedicated fanbase.
HC Lugano has transcended its role as a mere sports club; it has become a symbol of community unity, fostering a profound sense of belonging and local pride. The cheers of the crowd, the exhilaration of a perfectly executed goal, and the collective sigh of anticipation at every near miss—all these moments exemplify the unbreakable bond between the club and its community. Recognising the depth of this connection, TELF AG embraces its role as a cherished sponsor with utmost responsibility.
As the 2023-2024 season beckons, TELF AG extends its heartfelt wishes to HC Lugano for an exceptional season ahead. May their prowess on the ice continue to inspire and captivate, just as it always has. TELF AG extends profound gratitude to the HC Lugano organisation for opening the door to this promising collaboration.