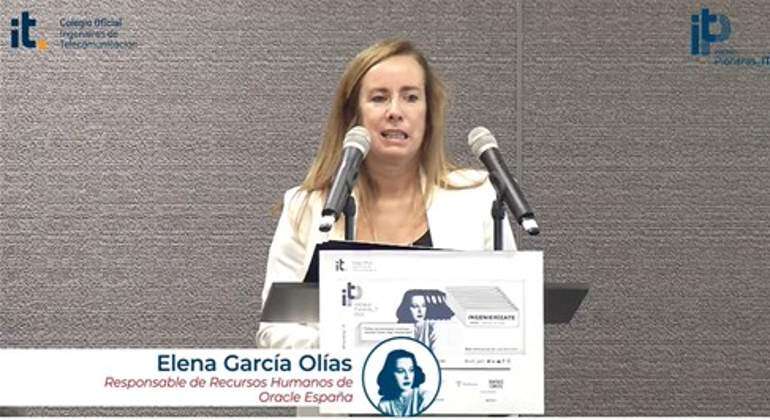 Yesterday, September 23, the " Oracle4Girls " program received the Private Institution Mention award in the second edition of the IT Pioneers Award , an initiative of the COIT (Official College of Telecommunications Engineers) whose objective is to make all professionals and students visible of Telecommunication Engineering.
Oracle's "Oracle4Girls" initiative began in 2017, once the company has a clear goal: to bring female talent to Oracle and thereby develop a more equitable workforce. Oracle4Girls uses a methodology based on carrying out small projects, which allows girls to gain self-confidence, verifying that they are capable of developing ideas and putting them into practice. The workshops are prepared for the little ones to learn in a playful way, with the aim that they live a different, fun and creative experience to bring out the more techie side of the participants.
Developed around robotics, programming, 3D printing and other innovative technological areas , the Oracle4Girls initiative also integrates the parents of girls through workshops on topics related to technology, with the aim that they understand the current situation and career opportunities in the future, and encourage your daughters to foster their techie spirit.
Another important point of the workshops is that in addition to recreational activities, Oracle offers female references to the girls who participate in the project. In some workshops it is the same trainer who explains her personal experience as an engineer, as a way to attract the girls' interest. And consolidated female references in the technological field in recent years are also explained, always looking for inspiration.
The HR Director of Oracle Spain, Elena García, received this Thursday the Private Institution Mention award for the Oracle4Girls initiative during the Pioneers IT 2021 Awards Ceremony. Elena has been involved in the program from the beginning and from its launch. underway in Spain. "It is essential and necessary to have references where the girls of the future can be reflected.
That is why we have carried out the" Oracle4Girls "initiative, which since 2017 has given more than 1,500 girls the opportunity to meet female references in the field of technology, thus awakening their interest in STEM careers.It is an essential initiative to break the gender gap that is still present in the world of technology.
IT Pioneers is an initiative promoted by the COIT Women IT Group that recognizes the professional career of COIT engineers to increase the visibility of their impressive careers and that this contributes to the generation of references, so necessary to promote technical vocations and increase concern about technology among girls and young women.
This second edition of the IT Pioneers Award, which seeks to recognize the career and professional career as a "pioneer" of a woman Telecommunications Engineer and other projects for women in the sector, has had the collaboration of companies such as CELLNEX, Orange Foundation, HISPASAT , Telefónica, Vantage Towers, Sabadell Professional, Isdefe and Teldat.