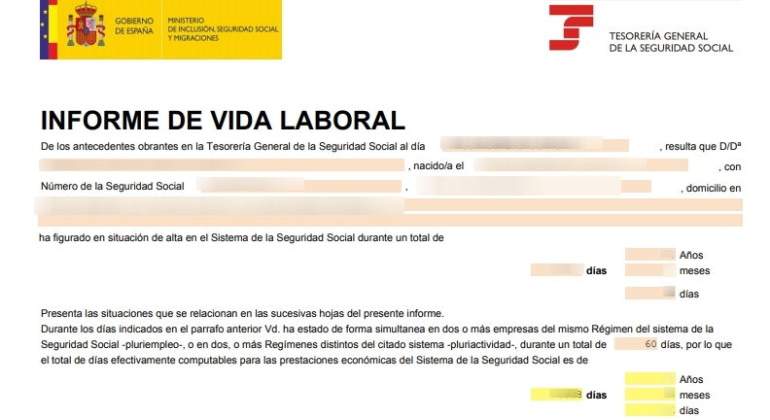 Working life is a document that is highly consulted and highly required by citizens, since it includes all the contribution periods and the types of working day in which it has been registered in the eyes of Social Security in the different jobs that have been played. For that reason, from time to time, the body remembers how it can be achieved.
In its profile on the social network Twitter , the Social Security has explained that there is the possibility of obtaining working life "in less than a minute" through its online procedures portal, Import @ ss , in the section ' Work life and reports ' and, within it, in the option ' Report of your working life '.
Citizens have the option of getting this report via SMS , although for this they need to have their phone registered in the Social Security database. If you do not have it, you must first use the We Help You platform, where you can register the phone by following these precise steps .
With the registered telephone number, the citizen only has to click on the access option 'via SMS', through which, after entering the telephone number, date of birth and ID, the system will send a security code that the worker must type. This system "bases the security of the user's identification on the knowledge by the latter of a series of personal data and on the possession of the mobile device", reports the Social Security itself .
Once the code has been obtained and submitted, you can download the work life report to your device or view it online. It can be requested whenever desired and will reflect the worker's employment information at the time of downloading the document. In parallel, you can get a report on a limited section of your working life, distinguish between the different situations of discharge and leave … and even request a modification of the data if errors or omissions are perceived.
However, the citizen can use several other methods to access the report. You can also get it through Import @ ss, but accessing by digital certificate (you can get it in four easy steps ), Cl @ ve PIN and username + password. If none of these methods are available, it can be delegated to a duly authorized representative .
For these people without access to the above methods, there is also another option: request the dispatch of the working life via postal mail . In this alternative, the citizen's address must be registered in the Social Security database. If so, by filling in this form with personal data, email, contact information … you can get the work life report.