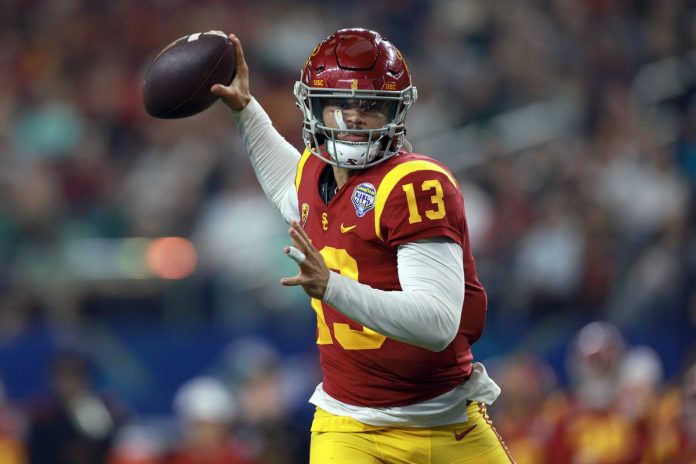 USC vs. San Jose State: How to Watch NCAA Week 0 College Football Online (8/26/23), The college football season kicks off with a bang as the No. 6 ranked USC Trojans, led by star quarterback Caleb Williams, take on San Jose State on Saturday, August 26, 2023. Football fans are eager to witness this exciting matchup at the iconic LA Memorial Coliseum in Los Angeles, California. If you're wondering how to catch the game, we've got you covered with all the details on time, TV channels, and even how to watch it for free online.
When and Where?
Here's what you need to know:
Tournament: NCAA Football, Week 0
Name: USC vs. San Jose State
Date: Saturday, August 26, 2023
Place: LA Memorial Coliseum
Start Time: 8 p.m. ET
TV Channel: Pac-12 Network
To catch the action on TV, tune in to the Pac-12 Network. The Pac-12 Network will provide comprehensive coverage of the game, ensuring you don't miss any of the key plays, touchdowns, or exciting moments on the field.
Live Streaming
For those who prefer the convenience of online streaming, you're in luck! You can watch USC vs. San Jose State for free via a trial of fuboTV or Sling TV. Better yet, Sling TV offers a fantastic 50% discount on the first month, making it an affordable option for streaming college football. With both services, you can enjoy the game from the comfort of your own home or on your mobile device while on the go.
Channel Finder
If you're wondering where to find the Pac-12 Network on your TV provider, it's available on Verizon Fios, AT&T U-verse, Comcast Xfinity, Spectrum/Charter, Optimum/Altice, Cox, DIRECTV, Dish, Hulu, fuboTV, and Sling. So, no matter your cable or streaming service, you can tune in to watch the Trojans and the Spartans battle it out.
Reggie Bush's Lawsuit
In other USC-related news, former Trojans running back Reggie Bush is making headlines with his plan to file a defamation lawsuit against the NCAA. This legal action stems from a statement made by the NCAA regarding the reasoning behind its decision not to restore Bush's records, including his Heisman Trophy, which he voluntarily returned in 2010 due to NCAA sanctions.
Bush hopes to clear his name and regain his place in college football history, with dreams of seeing his jersey and banner alongside other USC Heisman Trophy winners. The lawsuit is centered on a statement made by the NCAA in July 2021, in which they described Bush's playing career as a "pay-for-play" arrangement. Bush's legal team contends that this statement is false and offensive, as he was never accused of such an arrangement.
As the college football season kicks off with USC vs. San Jose State, all eyes will be on the gridiron. Whether you're tuning in on TV or streaming online, it's bound to be an unforgettable start to the season. Additionally, Reggie Bush's legal battle adds an extra layer of intrigue to the storylines surrounding USC football. So, get ready for an action-packed night of college football on August 26, 2023!