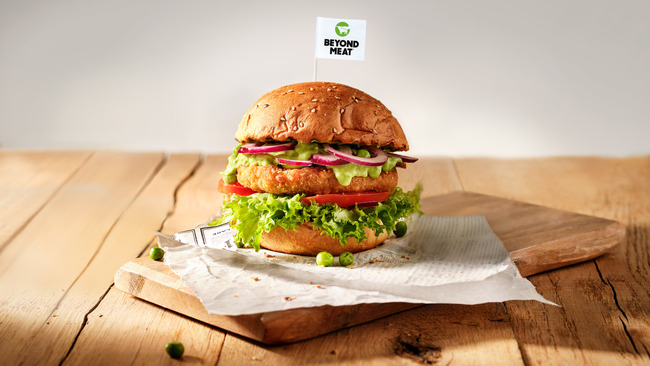 Plant-based meat pioneer Beyond Meat has expanded its range in the UK with new chicken-style products, including the Beyond Burger Chicken-Style, Beyond Fillet, and Beyond Nuggets. These plant-based alternatives are made from ingredients that are designed to replicate the look, taste, and texture of animal meat, making them suitable for carnivores, flexitarians, vegetarians, and vegans alike. The products have a crispy golden breading on the outside and are juicy and tender on the inside, providing protein-packed perfection for any meal occasion.
Beyond Meat's latest product launches are part of its ongoing mission to make plant-based meat more accessible to consumers across the UK. Sales of plant-based meat across Europe grew by 21% from 2020 to 2022, according to a study by GFI. Consumers are turning to plant-based meat for reasons such as sustainability, animal welfare, and balanced lifestyles. Responding to increased demand, Beyond Meat is introducing new products to the market.
Catherine Shacklock, Waitrose Chilled Vegan & Vegetarian Buyer, said: "Our customers are always looking for something new, and this product is a great example of how advanced the plant-based market has come in both flavour and texture in recent years."
The Beyond Chicken-Style range uses fava beans as a key ingredient to provide a texture and taste as close as possible to its animal-meat counterpart. This nutrient-packed legume crop is the optimal ingredient for replicating the taste and texture of traditional chicken. Beyond Meat continues to unlock the potential of new plant protein sources, having popularised pea protein with the award-winning Beyond Burger.
The new Beyond Meat Chicken-Style products complement the existing Beyond Meat portfolio, which includes Beyond Burger, Beyond Sausage, Beyond Mince, and Beyond Meatballs in the UK. The launch of the new products coincides with the UK's celebration of the Coronation, with a plant-based version of one of the nation's most-loved and versatile street party foods – Coronation Chicken. Recipes to inspire creativity in the kitchen for the Coronation and beyond are available, with a special Beyond Coronation Chic-King Sarnie created by plant-based guru Sam Jones of No Meat Disco.
"Innovation is at the heart of Beyond Meat, and our delicious new plant-based burger, fillet, and nuggets will allow people to continue eating what they love, no sacrifice required," said Steve Dalby, Regional Sales Manager UK at Beyond Meat.