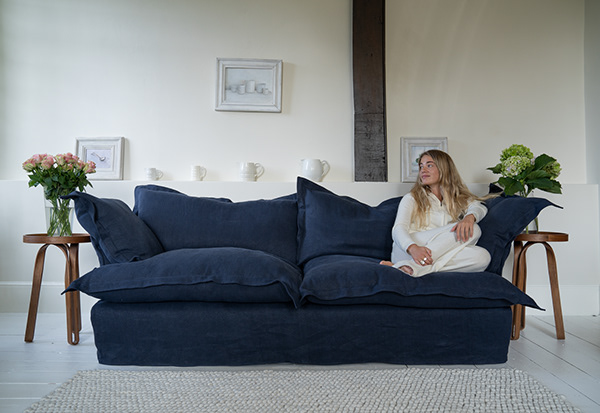 In a world where mass-produced, cookie-cutter furnishings dominate the market, Maker&Son has emerged as a shining example of British craftsmanship, sustainability, and attention to detail. Founded by Alex Wilcock and Felix Conran in 2018, the brand was acquired by Inc & Co in mid-2022 and relaunched in 2023 as a licensing model with partners in the UK, Australia, and New Zealand. With plans for further expansion throughout 2023, Maker&Son has achieved a remarkable global turnover of over £25m, demonstrating the power of redefining luxury in furniture through a strong focus on quality and sustainability.
Craftsmanship: The Heart of Maker&Son
At the core of Maker&Son's ethos is a deep commitment to exceptional craftsmanship. The founders, Wilcock and Conran, both come from design backgrounds and share a passion for creating beautiful, timeless pieces. They understand the importance of fine craftsmanship and have built a team of skilled artisans who share their vision.
Their philosophy is simple: to create furniture that is not only visually appealing but also comfortable, durable, and long-lasting. This approach has enabled Maker&Son to carve a niche for itself in the luxury furniture market, attracting discerning customers who appreciate the value of well-crafted, meticulously designed pieces.
Bradley Coulson, a representative of Maker&Son, explains the importance of their commitment to craftsmanship: "We believe that the best furniture is made from the finest materials, by the most talented craftspeople. We have worked tirelessly to source the highest quality materials and employ master artisans who share our dedication to creating beautiful, long-lasting pieces."
Sustainability: A Conscious Approach
In today's world, where environmental issues are increasingly pressing, Maker&Son has made sustainability a central aspect of their business model. They recognise that luxury need not come at the expense of the planet and have incorporated sustainable practices throughout their production process.
From sourcing locally grown, FSC-certified hardwoods to using natural, biodegradable materials like cotton and wool for their upholstery, Maker&Son takes great care in selecting eco-friendly materials. The company also champions a low-waste production process, repurposing offcuts and minimising waste wherever possible.
Furthermore, Maker&Son's commitment to creating durable, long-lasting furniture contributes to its sustainability efforts. By focusing on longevity, the company helps reduce waste generated from short-lived, disposable furniture that ends up in landfills.
Attention to Detail: Elevating the Brand
What sets Maker&Son apart from its competitors is the unparalleled attention to detail that goes into each piece of furniture. From concept to production, every aspect is carefully considered, ensuring that the final product meets the highest standards of quality and design.
The team at Maker&Son works closely with clients to understand their individual needs and preferences, offering a personalised service that delivers a truly bespoke experience. Each piece of furniture is tailored to the customer's specific requirements, with the option to customise fabrics, colours, and finishes.
This dedication to detail extends to the after-sales support as well, with Maker&Son providing ongoing maintenance advice and services to ensure their furniture remains in pristine condition for years to come.
Overcoming Challenges: The Road to Success
Despite their rapid success, Maker&Son has faced its fair share of challenges. The acquisition by Inc & Co in 2023 marked a turning point for the company, as they transitioned to a licensing model and expanded their reach to new territories, including Australia and New Zealand.
The new owners unwavering commitment to craftsmanship, sustainability, and attention to detail has been instrumental in overcoming these challenges, propelling the brand to new heights and attracting a loyal following of discerning customers.
Coulson shares insight into the company's resilience during challenging times: "The road to success hasn't been without its obstacles, but our dedication to our core values has helped us navigate through them. By maintaining our focus on exceptional craftsmanship, sustainability, and attention to detail, we've managed to elevate our brand image and appeal to a discerning global audience."
Looking Ahead: A Bright Future for Maker&Son
As Maker&Son continues to expand its presence in new territories, the future looks promising for this trailblazing British brand. The company's commitment to redefining luxury in furniture through exceptional craftsmanship, sustainability, and attention to detail has struck a chord with customers across the globe, enabling them to recover from challenging times and establish a loyal following.
As they forge ahead with their licensing model and further expansion, Maker&Son will undoubtedly continue to set new standards in the luxury furniture market. Their unique approach serves as an inspiring example for other brands, demonstrating that it is indeed possible to achieve both commercial success and a positive impact on the environment through a steadfast commitment to quality, sustainability, and customer satisfaction.
Maker&Son's rise to prominence in the luxury furniture market can be attributed to its unwavering focus on exceptional craftsmanship, sustainability, and attention to detail. These values have enabled the brand to recover from challenges and carve a niche for itself among