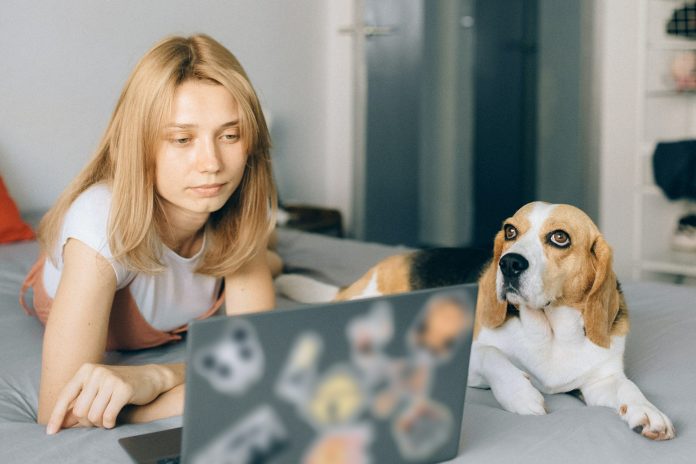 By Aleksandra Vayntraub
NEWS COPY w/ VIDEO + INFOGRAPHIC
Over two-thirds of pet owners have searched for a more flexible job to devote more time to their fur pals.
A recent survey of 2,000 employed pet owners found that 71% have made a significant life change because of their pet.
And six in 10 have previously left a job because they were forced to return to an office that wasn't pet-friendly.
Conducted by OnePoll on behalf of Vetster ahead of National Pet Day, results also found that seven in 10 are willing to accept a pay cut if it means they can bring their pet to work.
The past two years have been "ruff" for many, with 71% saying they'd benefit more from a pet-friendly office now than they would have before the pandemic.
Forty-eight percent said their pets have improved their productivity at work, including more than half of both cat and dog owners (56% and 53%).
Rodents were found to break the ice in meetings more often than other pets (69%), while small mammals like rabbits and ferrets were more likely to inspire their pet parents and boost their productivity (65%).
Overall, more than two-thirds credited new friendships at work to their fur pals, with the average person gaining seven new work buddies.
People's pets have also transformed their workdays, with cats (56%) and dogs (54%) both giving their humans a sense of comfort.
Many workplaces are responding to pet parents' needs — 42% report that their offices stock pet supplies such as bowls and poop bags.
"Our data shows that many pet parents have had positive experiences when their pets have played a role in the workplace," said Vetster CEO Mark Bordo "Pets can help create and maintain a positive culture at work while improving people's mental health and fostering friendships between colleagues."
Eight in 10 said spending time with their pet boosts their mental health, and the same amount also noted they feel less workplace anxiety when their pet is present.
But while 87% view their pets as part of the family, 57% feel guilty taking care of their pet during working hours.
"We've normalized taking care of kids during working hours, so why not include all members of the household?" Bordo added. "Companies can do their part by giving employees a full- or half-day off to care for their fur friends, donating to a charity of their choice, or organizing a pet meet-up on National Pet Day."
TOP LIFE CHANGES PEOPLE MAKE FOR PETS
Getting more active – 44%
Moving somewhere with more room for pets – 44%
Moving somewhere pet-friendly – 41%
Changing work schedules – 39%
Starting or ending a relationship – 35%
Buying a car – 32%
Choosing whether or not to have kids – 32%
Moving to another city or region – 32%
Changing jobs – 31%