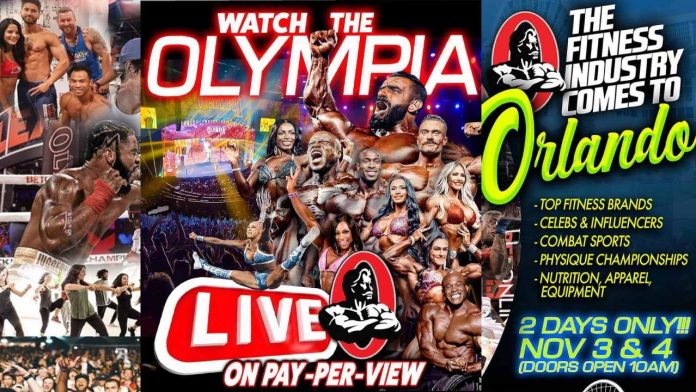 The stage is set, the competitors are primed, and the bodybuilding world is buzzing with anticipation as the 2023 Mr. Olympia contest descends upon Orlando, Florida. From November 2nd through the 5th, the world's premier bodybuilders will showcase their incredible talent, determination, and dedication.
Mr. and Miss Olympia official event details
| | |
| --- | --- |
| Date: | November 2-5, 2023 |
| Location: | Orange County Convention Center |
| Start Time: | Saturday 9.30 AM |
| Live Stream: |  Watch OLYMPIA TV |
In this article, we'll provide you with a comprehensive preview and share some predictions for the upcoming event, focusing on the Men's Open, Classic Physique, and Men's 212 divisions. Click here to watch Friday Olympia events by OLYMPIA TV.
The Men's 212 Division: Past Champions and Competitors
This year's Men's 212 division promises an exciting lineup, featuring past champions such as Shaun Clarida and Kamal Elgargni, along with the talented Hidetada Yamagishi and others. Notably, Derek Lunsford, the previous Men's 212 champion, has opted to step into the Men's Open division, inspired by a special invitation he received last year, where he achieved a remarkable second-place finish. The bodybuilding legend Ronnie Coleman even believes that Lunsford may have what it takes to claim the Mr. Olympia title this year.
The Olympia Weekend: A Culmination of Excellence
The Mr. Olympia contest is the pinnacle of bodybuilding events and is celebrated as the most prestigious show in the sport. The 59th edition of the Mr. Olympia will take place at the Orange County Convention Center in Orlando, FL, on November 3-4. A total of 24 bodybuilders initially qualified for the competition, but only 21 are expected to grace the stage. Below is the list of qualified athletes for the Men's Open competition:
Hadi Choopan
Derek Lunsford
Nick Walker
Brandon Curry
Samson Dauda
Behrooz Tabani
Tonio Burton
Ross Flanigan
Michal Krizanek
Phil Clahar
Andrea Presti
Hassan Mostafa
Justin Shier
Roman Fritz
Hunter Labrada
Chinedu Andrew Obiekea (Andrew Jacked)
Kamal Elgargni
Nathan De Asha
Regan Grimes
Theo Leguerrier
Charles Griffen
2023 Olympia Schedule
| | | |
| --- | --- | --- |
| Friday, November 3, 2023 | Olympia World Fitness Expo | 9:00 am |
| | Olympia Pre-Judging | 9:30 am |
| | – Fitness Olympia Pre-Judging | |
| | – 212 Olympia Pre-Judging | |
| | – Figure Olympia Pre-Judging | |
| | – Women's Physique Olympia Pre-Judging | |
| | – Ms. Olympia Pre-Judging | |
| | – Wellness Olympia Pre-Judging | |
| | Olympia Friday Finals | 6:00 pm |
| | – Olympia 212 Finals | |
| | – Fitness Olympia Finals | |
| | – Figure Olympia Finals | |
| | – Women's Physique Olympia Finals | |
| | – Ms. Olympia Finals | |
| | – Wellness Olympia Finals | |
| | – Mr. Olympia Pre-Judging | |
| | Mr. Olympia Pre-Judging | 6:00 pm |
Qualifying for Mr. Olympia is no small feat. Past champions secure their spot for life, and the top five finishers from the previous year's Men's Open division automatically earn eligibility for the following year. Athletes who don't meet these criteria must win a pro show before the cutoff date of October 9, 2023. Additionally, special invitations can be extended by the Olympia promoters or the IFBB Pro League.
As of October 12, 2023, no special invites have been offered for the 2023 Mr. Olympia. This stringent qualification process ensures that only the best of the best grace the Olympia stage.
Notable Absences
Three competitors who initially qualified for the 2023 Mr. Olympia have withdrawn from the contest. Iain Valliere announced his retirement from competitive bodybuilding in early September 2023, while Mamdouh "Big Ramy" Elssbiay chose to focus on physique development and recovery. Brett Wilkin had to withdraw due to health issues, leaving 21 athletes ready to showcase their prowess.
Past Champions and Top Contenders
With Elssbiay absent, the spotlight falls on defending champion Hadi Choopan and the 2019 Mr. Olympia, Brandon Curry. Both are considered top contenders, with Choopan being the favorite to defend his title. Derek Lunsford, the 2021 212 Olympia champion, aims to become the first athlete ever to win the Olympia in two different divisions.
Nick Walker, the 2022 Mr. Olympia bronze medalist and 2021 Arnold Classic champion, is another formidable contender. He's been vocal about his ambitions and is expected to give it his all.
Competitors on the Brink and Dark Horses
Several athletes, such as Hunter Labrada and Andrew Jacked, seek to make their mark in elite contests and secure a spot in the first callout. Michal "Krizo" Krizanek, after an impressive Olympia debut, is a potential disruptor if his conditioning matches his size.
Nathan De Asha returns to the Olympia, and his shape and posing could help him rise through the ranks.
Regan Grimes, Hassan Mostafa, and Charles Griffin, are considered dark horses who could make significant strides in their careers with a strong performance.
Olympia Debuts and the Unpredictable
Five athletes are making their Olympia debuts, and the competition is fierce. Olympia debuts are notoriously unpredictable, with some competitors securing top positions, while others fall short.
As the excitement builds for the 2023 Mr. Olympia, fans can catch the action via the Olympia Productions pay-per-view for those unable to attend in person. Stay tuned for the latest news and developments leading up to the event, including previews of each of the 11 contested IFBB divisions, as the world awaits the crowning of the next Mr. Olympia.