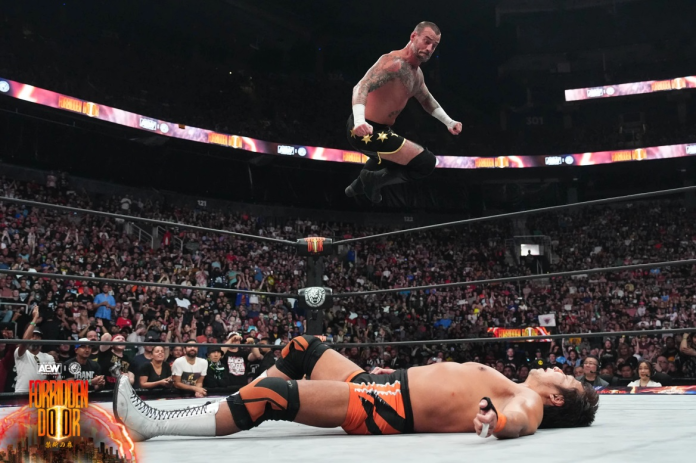 The story of CM Punk and the entire wrestling industry is quite tricky and complicated, to say the least. He was an immensely popular wrestler before his WWE career started. He was a champion with Ring of Honor in the early 2010s and took over the world when he debuted for ECW. Then it went back and forth, with some minor and major pushes and setbacks. That was until the all-time great Pipe Bomb on Raw. That promo when he sat on the top of the stage and talked about breaking the fourth wall changed the landscape of professional wrestling and he has been a hot commodity ever since.
He later quit WWE in 2014 due to creative differences and did not return to in-ring competition for seven long years. It took a whole new promotion in All Elite Wrestling for CM Punk to return to United Center in Chicago in 2021, making history once more with one of the loudest pops and hottest returns of all time.
All Out Brawl Out
CM Punk is competing in Owen Hart's Cup Tournament. It is something like baseball's 2023 world series, but for wrestling. Here some of the biggest names compete, in this case, for a trophy in honor of the great late Owen Hart. Another notable example of a tournament like that is King of the Ring or G1 Climax.
Even though CM Punk was present at this year's show AEW X NJPW Forbidden Door 2023, he was not present for the majority of the year. That was due to his injury he suffered last summer, but also to what happened the same day of All Out 2022. It was the infamous brawl out, where no one exactly knows what happened, and who was at fault, other than the disagreements were present and the atmosphere started to boil leading to some physicality backstage at the show involving the EVPs of the company in Kenny Omega and the Young Bucks, and aforementioned star CM Punk, alongside his trainer Ace Steel.
Injury Potential
After CM Punk's AEW debut, the star had a few impressive feuds starting with Darby Allin, going through Eddie Kingston, and finally a fantastic storyline with the current AEW World Champion MJF. They had two match-of-the-year contender matches with their bout on Dynamite and dog collar match. These first eight months were great, but then during his feud with Hangman Adam Page, it all started to crumble.
Firstly, Punk injured his foot after winning the title from Hangman at Double or Nothing 2022 and had to vacate the belt. After a couple of months away, he came back to dethrone Jon Moxley who was the Interim AEW World Champion, and he sadly got injured during the match too, this time for a much longer period of about 9 months. There is every chance that due to his absence from wrestling for seven years and naturally aging past his prime wrestling years, it might have made him injury prone much more than before.
Collision and Morale
Overall, the locker room has been split when it comes to the events from last year, and some wrestlers are on the side of CM Punk like his friends in Dax Harwood and Cash Wheeler – FTR, and some are against his comeback. Punk has returned to AEW once more on June 17 debut episode of AEW Collision, once again in the United Center in Chicago.
AEW Collision is the second major show in the All-Elite portfolio, which was created to somewhat separate certain wrestlers from one another. It might help in the short term, but it could become a not sustainable practice, which could hurt the relationship between certain superstars. Taking sides is never the solution when it comes to conflict like this and hoping that the situation will smooth out is wishful thinking.
Was CM Punk's Return a Mistake?
Due to Punk's past, it is hard to say at this time if his return was a mistake or not. His first comeback promo was quite good and if he was in character playing the whole situation off, setting up matches in the future then great. We cannot be sure if the situation has been resolved fully and now has turned into work, or if there are still grudges between The Elite and CM Punk.
The only thing we can do is hope nothing like the brawl out situation happens again, and all the men can remain professional, making money on the situation eventually, while giving us satisfying story. So far, the fans have cheered CM Punk in Chicago, but at the latest PPV of Forbidden Door he got mostly booed, and Punk played to the reaction with his facial expressions, call outs and moves inside the ring.
There is potential in this story so we will just have to wait and see. Opinions are certainly divided, and it might turn out to be a huge mistake, but so far, it's too early to tell for sure.