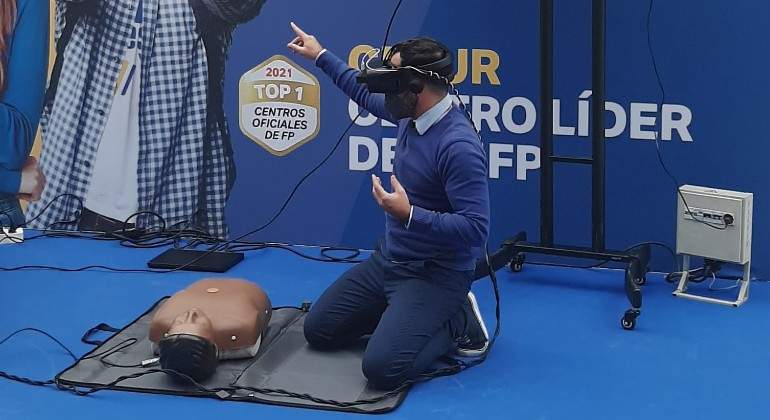 CESUR, the leading company in Official Professional Training in Spain, incorporates Virtual Reality in all its centers for training cycles in the health branch. As part of its participation in the Madrid International Employment Training Exhibition, CESUR today presented this new educational resource that will be available in the coming months at the company's training centers in Spain.
Technodigitalization: new learning environments
Technology is having a great impact on the educational and training sector with the development of new teaching methods. CESUR, aware of the need to bet on education 4.0, has implemented a virtual reality kit in its classrooms so that its students in the health branch can perform cardiopulmonary resuscitation (CPR) virtually. For this, it has counted on Telefónica, its digital transformation partner .
The virtual reality allows students to implement these protocols , improve their skills, learn new skills in a safe and immediate results. In this way, students who complete the cycles of Technician in Health Emergencies and the Middle Degree in Nursing Assistant in their centers, will be able to practice this first aid technique and thus increase retention of learning and reduce the possibility of blockage in a real case .
The director of CESUR in Madrid, José María González- Irún Velasco, during the presentation ceremony at the Formando Futuro 2021 room, indicated that "at CESUR we are committed to offering quality training that allows our students to be as prepared as possible. and familiar with the work they are going to carry out when their cycles end. For this reason, we do not stop innovating and incorporating new resources that allow them to acquire the necessary competencies and abilities in a totally immersive way. "
Through this virtual role-play , the students will be able to learn during the simulation some details such as the results of the compressions they have carried out during the exercise, measure and assess the correct position of the hands, train training and situational stress or the equipment used in the practice of CPR and thus avoid possible shocks due to improper use.
Health professionals, one of the most demanded profiles in the labor market
According to the latest data from Adecco, 38.8% of job offers published in Spain require Vocational Training as a requirement, a percentage that is equal to that of offers for university graduates and that in 2018 even exceeded the demand for graduates or graduates.
Within the training families, the health is the most requested by students in Spain with more than 16% of enrollments. The lack of professionals in the sector means that the students who complete these degrees have a high degree of employability and quick access to the labor market.
CESUR, which is from November 16 to 18 at stand 34 of the International Training for Employment Exhibition in Madrid , has also presented its offer of professional training in health, as well as in computer science, marketing, image and sound, hospitality and tourism or aeronautics, among others.