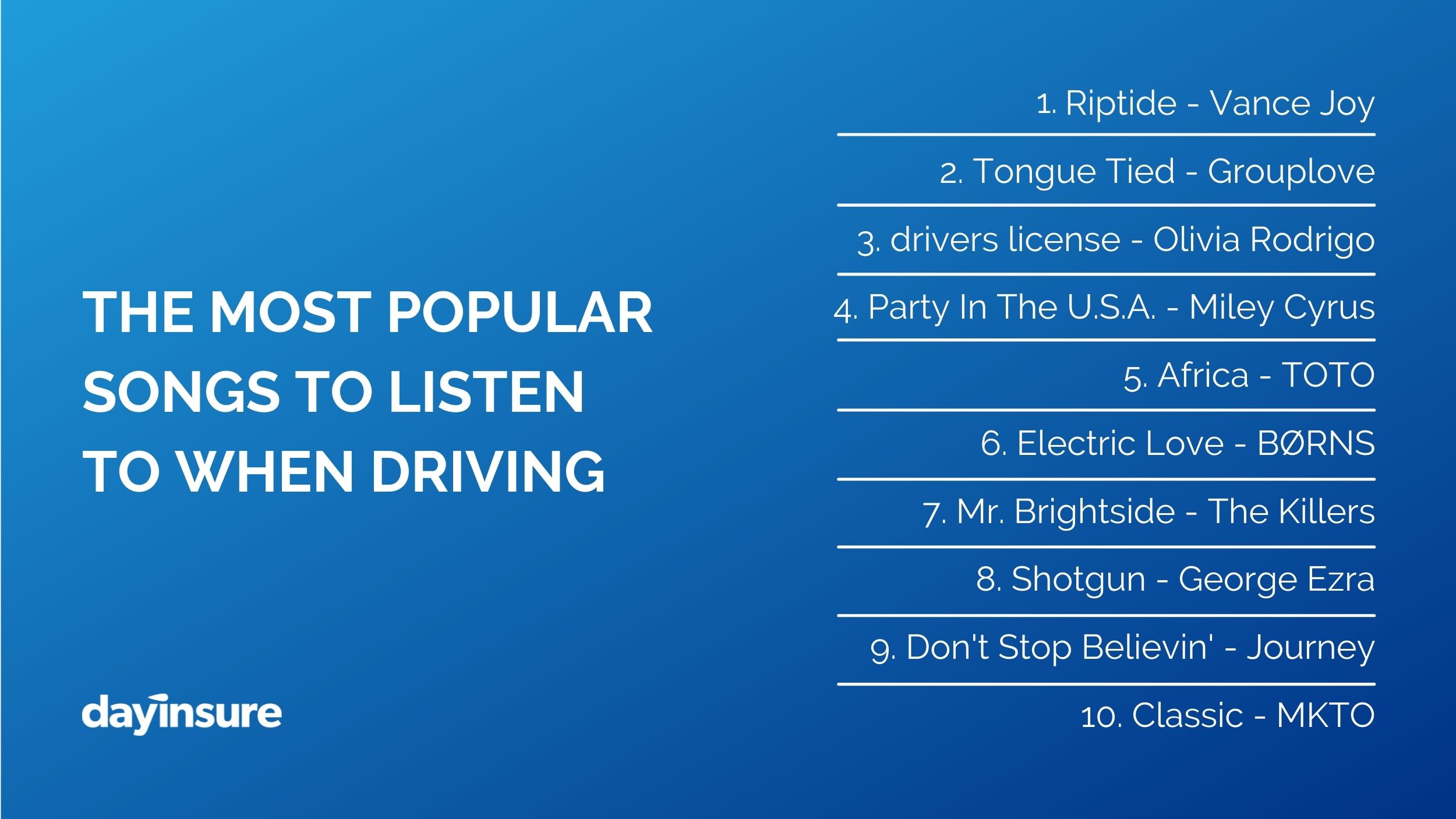 What artists are most played by those driving? What really is the world's favourite driving song? In a recent study, Dayinsure has revealed the most popular songs and artists to listen to whilst driving.
By analysing 6,084 driving playlists on Spotify and the 920,904 songs they feature, Dayinsure has managed to uncover the songs and artists that are most added to driving-focused playlists.
The top 100 songs have been added to The Ultimate Driving Playlist, and there are also seven more specific drive-type playlists featuring the top 100 school run, road trip, morning commute, evening commute, late-night drive, Sunday drive and car singalong songs.
But which song and which artist are taking the top spots?
The most popular song to listen to whilst driving is Riptide by Vance Joy. Appearing on more playlists than any other song, this indie-pop hit is beloved when behind the wheel.
·         'Riptide' features in 324 of the 6,084 playlists examined
·         'Riptide' is most likely to feature on Spotify's road trip playlists
·         'Riptide' is the only entry for Vance Joy across all playlists analysed
The most popular artist to listen to whilst driving is Drake. This chart-topping music superstar's popularity extends to car stereos, where he is the artist most likely to be listened to.
·         Drake appeared on 909 of the 6,084 playlists examined
·         Drake's most popular song for driving is 'Chicago Freestyle', found on 189 of the playlists analysed
·         Drake has three entries in the list of 100 most popular songs found in Spotify driving-themed playlists
Dayinsure's team had this to say: "We all have our favourite songs and artist to listen to when driving but in our latest study, we wanted to see exactly what the world has in common when it comes to driving music. By analysing over 6,000 Spotify playlists and more than 900,000 songs, our study has uncovered some fascinating findings. We now have a better picture of exactly what the world likes to listen to when behind the wheel, whether for a road trip or morning commute. Depending on the time of day or the reason for being in the car, tastes certainly differ and it's fascinating to see."
View the full findings and analysis here: https://www.dayinsure.com/news/study-reveals-the-most-popular-songs-for-driving-playlists/