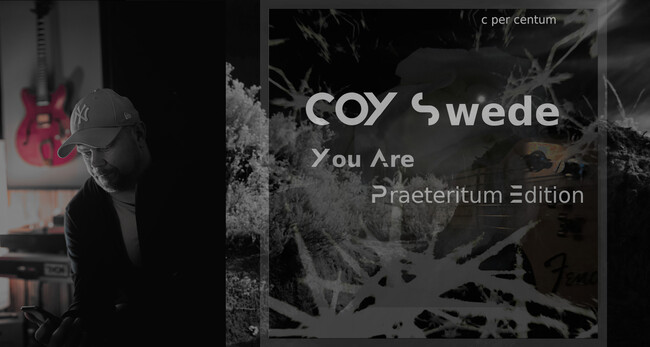 COY Swede, keeps what he promised the listeners, to show his musical width. You Are Praeteritum Edition is OUT NOW, 2 July and is a total remake of his own biggest streamed original EDM track, You Are.
The single You Are was released in September last year where COY Swede collaborated with singer Matthew Titmouse for the second time. The single received a very good response at its release.
The uniqueness of his craftsmanship behind his music, is his own sound design. Every bit of a sound, instrument small or big has it's own purpose.
One composing example is that he uses a similar metod as Barry Gibb (Bee Gees) finding the melodi first, with his voice.
His referens and inspiration comes from other artist that really has something to put to the table, something true and that it means something.
One other characteristics are that he respects all other music genre's and are under constant evolvement for every new track. COY Swede as the artist name gives a hint on, he is based in, Stockholm, Sweden.
His own words about the new version, "You Are Praeteritum Edition".
With this version, I want to paint even more strongly how it can feel lose someone close. And above all, my big goal is to really try give the listener a pleasant musical calm and a warm breeze to ease that pain. Making this track was abit challenging at time singing it, because its is about loss from someone close to me. 

We have all had it tough now in different ways around the world for a very long time, and many have passed away far too soon and suddenly.

I appear myself this time with my own voice for the first time. I really want it to come from me as a gift 100% for the listeners.

Praeteritum is latin for "the past" or past tense. My music is constantly evolving and I address different situations. And you can be part of that journey. In my own development as an individual, I try to value and turn the past into a wise life experience instead of negatively pondering things. This is not easy! We all have feelings and we easily forget how much it actually affects us in different situations whether you want it or not.

The song evolved to a classic Electronic Pop / rock ballad and anthem where I want to invite a feeling of healing and a calm that then in the end briefly lifts us to a determination, that we now own the memories I both reason and feeling. It's a bit like the loved one you have lost is telling you. I am, we are with me now. And I want you to remember the good of me now, and reflect my imprints along the way.

You can find, "You Are Praeteritum Edition" on all streaming platforms from this day!