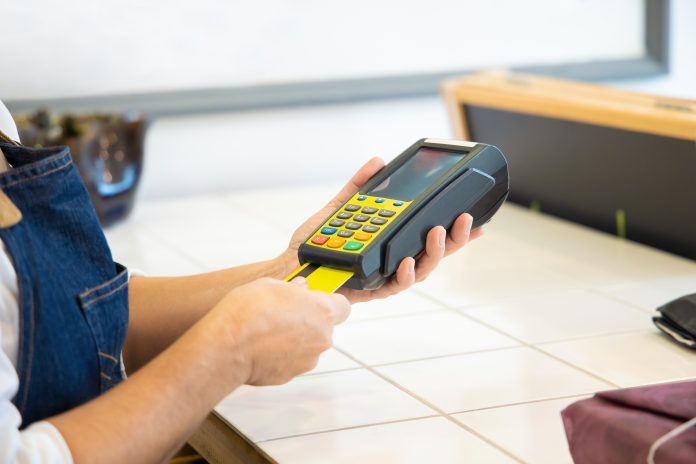 In the age of card transactions, it is no wonder that countertop card payment machine is one of the most popular ways for businesspersons to accept card payments from their customers when considering their benefits.

Businesses or traders operating with a fixed payment point may find countertop card machines to be the best choice over other card payment solutions. With the help of cloud technology, you can easily integrate this unit into your point-of-sale system to accept payments more quickly and with greater efficiency. For maximum reliability, your countertop card machine can be connected via broadband or telephone line to give your customers fast, secure transactions. Upon setting them up, they print receipts instantly when a payment is taken. In addition to accepting gratuities and deposits from your customers and offering cashback as well, the terminal also supports Google Pay, Apple Pay, and other contactless payments.

According to UK Finance, fewer than one-third of all payments are made via cash these days, so if you don't accept card payments, you could be left behind. As a result of this surge in card payments, countertop card machines make an important asset for all kinds of businesses.

Working of a countertop card machine

To process payments into your POS system, countertop terminals only require an ethernet or phone connection. Countertop card machines come in several different types. There are some standalone devices, as well as those that include a built-in credit or debit card reader.

The countertop card machine connects directly to your phone line or broadband connection and is equipped with all the latest technology so that you can take secure card payments. Through a direct IP or PSTN connection, the terminal automatically connects to the preferred merchant bank. It has the added benefit of a fast connection when taking a chip-and-pin transaction when it is contactless-enabled.

The first step in the process is usually to input transaction amounts into the card machine on the countertop. After that, the cardholder needs to swipe the card into the machine. The holder of a contactless payment card can make a payment by tapping the card. As mentioned above, countertop card machines accept other payment methods such as cards not present and digital wallets as well.

When the first phase is complete, the customer card communicates with the machine and sends encrypted data to the merchant account. A request for authorisation will then be sent from the bank to the bank of the cardholder, who will then verify the request. Payment will be completed within a short period of time if everything gets verified.
Benefits of a countertop card machine

1) Added Security
Payment information is protected using the latest security technology on countertop card machines. Encrypting transactions and authenticating payments, make fraud prevention more straightforward. Additionally, they are hardwired, making it difficult to hack into their systems.

2) Faster payments
There's nothing worse than standing in a long line while people fiddle with their cash. It is simple and quick to automate payments with countertop card machines, so you can serve more customers during peak times. Also, you won't have to worry about downtime when you use a countertop card machine.

3) Increased profits
When you provide card payment solutions such as countertop card machines, you can cater to those who don't carry cash, allowing you to serve them with their preferred payment method. According to recent studies, card payments can result in a five-fold increase in spending compared to cash payments.

4) Reduce risks of fraud
Card payments reduce the need for counting change and checking for counterfeits, reducing human error risks and the amount of cash deposited. The risk of theft is also reduced when there is less cash on hand.

5) Better customer experience
Customers are more satisfied with countertop card machines because they are fast-paced and adaptable to today's fast-paced lifestyles. Customers are prevented from being caught short if they do not have enough cash on hand when they pay for shopping with them.

6) Improved reputation
By offering a countertop card machine as a payment method, your business appears legitimate since they are most popular among card machines, which increases customer trust. When you offer secure and credible payment services, people will be more inclined to shop with you.
7) Easier record-keeping
When you have a merchant account for your countertop Card machines, it's easy to track recorded transactions and manage your books online. If there are ever any problems, you can retrieve and examine transactions at any time.
8) Business strategy insight
You can also get useful information about the spending habits of your customers by tracking the sales of countertop Card machines. Using this data, you can manage stock control for your most profitable items and staffing levels during peak sales periods.

9) Competitive edge
If businesses want to stand a chance against their competitors, they need to be up to date. A countertop Card machine could give your business an edge over businesses without such technology.

10) Flexible solutions
Even though credit card processing fees can put smaller businesses off, there are plenty of options for affordable countertop Card machines that will suit any business setup. In comparison to their benefits, the cost of adopting a countertop card machine is negligible.

Impact of countertop card machines on businesses

It is for a reason that countertop card machines are among the most popular and widely used card machine for business. Compared to any other card payment solution, they provide steady, seamless, protected, and faster transactions at ease.

In the 21st century, technology has become an integral part of human life. As a result, they place a greater emphasis on transactions involving debit and credit cards. Customers and vendors alike benefit from countertop machines, making them a favourite and familiar choice. Also, there has been an increase in contactless transactions since Coronavirus arrived. The magistrate premium has been replaced by EMV on credit cards issued by credit card companies. Using a credit card with an EMV chip, you can make contactless transactions.

Indirectly, technology and situations encourage people to use card payments instead of cash payments. Physical substances are often dangerous to keep as payment methods. The convenience of technology and its ability to provide more financial security and digital earnings has no wonder that more people are turning to it, and countertop card machines are the most popular and familiar card payment solution to date because of their benefits.