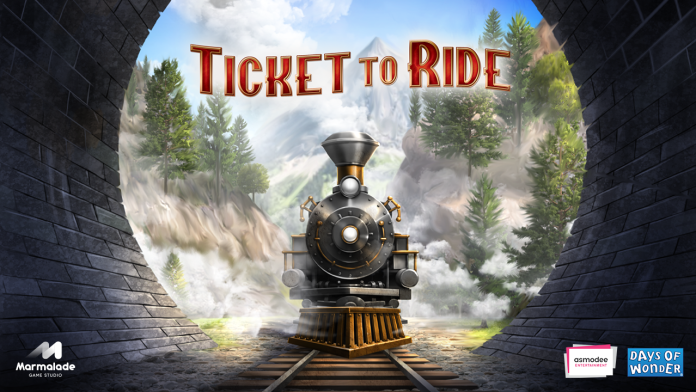 Marmalade Game Studio, in collaboration with Days of Wonder, Asmodee Entertainment, and Twin Sails Interactive, is thrilled to announce the upcoming release of a brand-new Ticket to Ride video game for PC, consoles, and mobile platforms. Set to launch on Steam in November 2023, with other platforms following in 2024, this game promises to offer a fresh perspective on the iconic board game designed by Alan R. Moon, featuring immersive graphics and high production values.
Ticket to Ride, originally published by Days of Wonder, an Asmodee studio, has garnered acclaim, including winning the Spiel des Jahres (best game of the year) award in 2004, establishing itself as one of the finest board games ever created. With over 15 million copies sold worldwide, Ticket to Ride is a true sensation and a must-have addition to any board game collection. This new video game adaptation aims to introduce Ticket to Ride to an even broader audience, reaching both newcomers who haven't yet experienced the game and seasoned players seeking the convenience of digital play.
Mike Willis, co-CEO of Marmalade Game Studio, expressed enthusiasm about this collaboration: "Ticket to Ride is the first collaboration between Asmodee Entertainment and Marmalade Game Studio. Given our track record in the board game genre of video games and Asmodee Group impeccably curated portfolio of fan favourite games, this is set to be the start of a very exciting journey. Having played the board game for two decades now, we are honoured to be trusted with its digital implementation. We are building a modern game that we hope will be the bedrock of this fantastic brand in the digital space."
The current version of Ticket to Ride, developed by Twin Sails, will be rebranded as "Ticket to Ride: Classic Edition" in all existing stores where the game is currently available. Importantly, this version of the game will be removed from PC and mobile stores starting from October 3rd, with console editions remaining available until April 2024. In-app purchases, such as acquiring new maps, will also cease to be possible.
Nicolas Godement, Managing Director of Twin Sails Interactive, conveyed appreciation to the dedicated community of Ticket to Ride digital players: "We have been working on Ticket to Ride digital for more than 10 years and we want to thank our dedicated and passionate community" He continued, "We're excited to see a company like Marmalade Game Studio developing and publishing a new version of a fan favourite and we're confident Ticket to Ride is in good hands"
While "Ticket to Ride: Classic Edition" will no longer be available for download, current owners will retain access to the game in their game library and can continue enjoying it without interruption. This change ensures that players who already possess the game and its downloadable content can continue to relish the delights of Ticket to Ride even after the version becomes unavailable for new downloads.
For newcomers eager to experience Ticket to Ride, the new video game edition offers exciting new features, a fresh design, and enhanced gameplay. This updated edition aims to enhance the gaming experience by delivering numerous improvements and additions that will add an extra layer of excitement to gameplay. Whether you're a seasoned fan or a newcomer, the new Ticket to Ride video game aspires to captivate and engage players in novel ways, making the journey even more memorable and enjoyable.