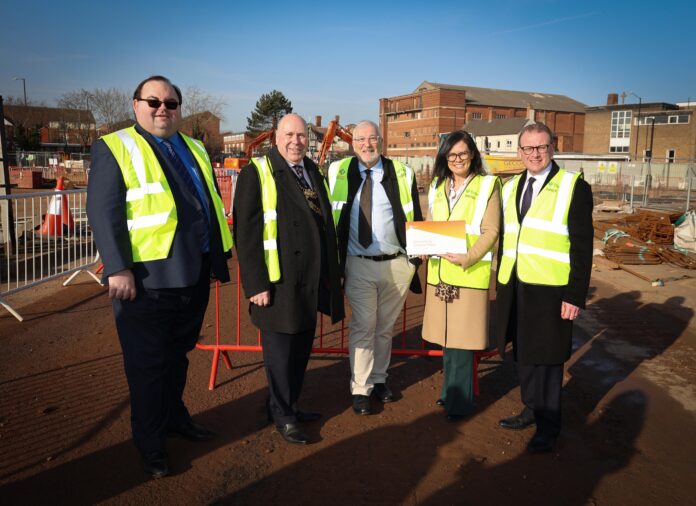 The location for North Warwickshire and South Leicestershire College's new Digital Skills and Innovation Centre has been re-named 'Grayson Place' in memory of one of Nuneaton's most famous supporters, the popular entertainer, Larry Grayson.
Part of the Transforming Nuneaton programme, Grayson Place, which was named in consultation with the local community, is the first landmark project to be undertaken by Nuneaton & Bedworth Borough Council, Warwickshire County Council and strategic development partner, Queensberry.
Grayson Place is the new name for the town's Abbey Street development which will also include a hotel, food hall and cinema as part of a new cultural, educational and leisure facility for the town.
The college's Digital Skills and Innovation Centre and training restaurant which will be constructed within the former Co-op building, received planning approval last month. It is anticipated that the new state-of-the-art centre, due to open in 2025, will help to regenerate skills and careers opportunities in the town, enable access to digital skills training, provide an incubation space for business start-ups. It will also support the hospitality sector through a training restaurant that will be open to the public.
Speaking at the official launch of Grayson Place, Marion Plant, OBE FCGI, Principal and Chief Executive of NWSLC said, "NWSLC has a significant stake in the success of this development, and we were delighted when planning permission was granted last month for our Digital Skills and Innovation Centre which will sit at the heart of the Grayson Place development. It is our aim to contribute to the growth of the town and boost opportunities for people to gain new skills that pave the way for exciting careers.
"By locating this facility in Grayson Place, we will open a shop window on how the college operates and enable the public to observe how our students progress by opening the doors to our award-winning training restaurant. The demand for digital skills is increasing and this centre will provide an opportunity to deliver on-site training to address a wide range of practical applications.
"We aim to increase participation in skills development amongst the local community and provide support on the spot for local employers and for entrepreneurs starting their businesses. We will work to ensure that the college responds to local demand for specific skills with pop-up training opportunities delivered wherever is convenient – in the town centre, in workplaces, at the Digital Skills and Innovation Centre and at our main Hinckley Road campus.
"We hope to take inspiration from Larry Grayson's example as someone who was skilled in bringing people together and really engaging his audience. In the tradition of showmanship demonstrated by this great friend and supporter of Nuneaton, we want to showcase the talent and potential of this town by bringing skills training to the heart of the town centre."
Cllr Kris Wilson, Leader of the Nuneaton & Bedworth Borough Council, said,"It's an exciting time for Nuneaton as we finally unveil the new name for the redevelopment around Abbey Street. We are pleased to share this milestone with the local community, who were consulted in the selection of an inspired new place name. Comedian and TV personality Larry Grayson was a proud Nuneaton local and a fantastic performer. It is fitting that, as Grayson Place becomes a new entertainment and leisure destination for Nuneaton, one of its most famous past entertainers will be remembered here."