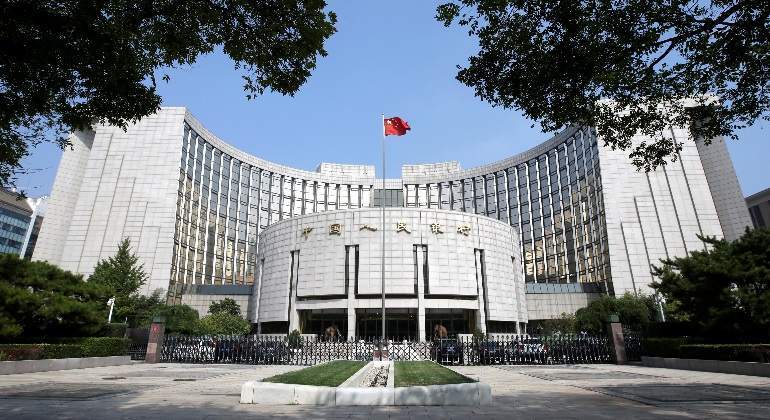 For the first time in twenty months, the benchmark interest rate for one-year bank loans (LPR) fell from 3.85% to 3.8%. The five-year LPR remained at 4.65%. The LPR is the benchmark that banks use for loans to families and businesses. A kind of Euribor, controlled by Beijing. The cut seeks to boost the economy after the slowdown in growth suffered by the Asian giant.
Last week the PBOC reduced the mandatory reserves for financial institutions , with the same objective, to redirect excess capital to the real economy to stimulate it. The measure released nearly $ 200 billion . The latest movements open the door to greater support, taking into account the difficult context of the Chinese economy.
The country faces the beginning of a real estate crisis amid new coronavirus outbreaks and a noticeable slowdown in economic activity. "The cut reinforces our view that the Chinese authorities are increasingly open to the possibility of an interest rate cut amid headwinds in the economy," explains Xing Zhaopeng, analyst at Australia & New Zealand. Banking Group.
LPRs are not technically the official rates of the People's Bank of China. It is a reference similar to the Euribor when determining its evolution with a panel of 18 banks on loans to their best clients . In practice, the LPRs do not move without the go-ahead from Beijing. The rate cut will mean interest savings of $ 12.5 billion a year, out of a total of $ 25 trillion linked to the LPR, according to Xing.
"This move is a concrete sign that China is adopting a supportive monetary policy and is bolstered by another markedly weaker-than-expected yuan peg against the US dollar this morning," said Jeffrey Halley, analyst at OANDA. At first, a large part of the Chinese mainland stock market reacted with increases to the reduction of rates. The CSI 300 Real Estate Index rose as much as 2.6%. But after the initial impulse, the Chinese market moved around the falls of the rest of Asian markets.
"China is sending a strong and clear message about its pro-growth pivot with the decline in the benchmark one-year lending rate and we expect that supportive policy stance to continue through 2022," said David Qu, economist at Bloomberg Economics.
The rate cut has caught most of the market by surprise as the PBOC did not move official rates. The Bloomberg consensus expected LPRs to remain stable. "In the short term, we may not see the PBOC taking further action," predicts Qi Gao, a strategist at Bank of Nova Scotia. The market does not anticipate interest rate cuts, but in the first quarter of the year another cut in the banks' capital reserves.
The news that China's Sinovac vaccine will be ineffective against the omicron variant will further complicate the economic scenario, OANDA advances. China's Covid-zero policy will keep the doors closed to the outside world throughout 2022.