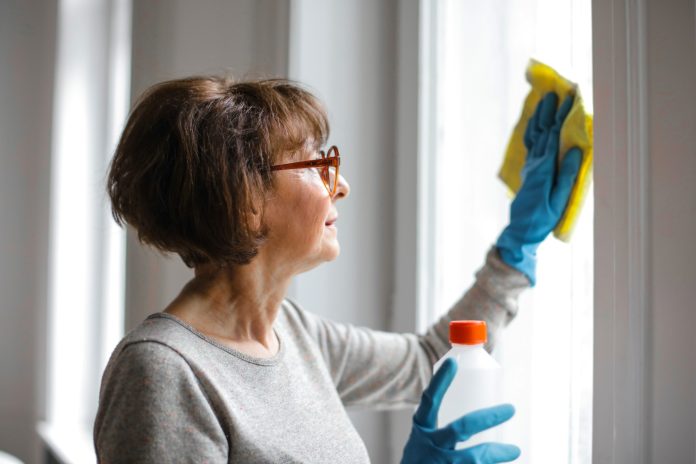 By SWNS Staff
NEWS COPY w/ VIDEO + INFOGRAPHIC
If you've been putting off tidying up your home, you may not want to put it off any longer.
A new survey of 2,000 American homeowners found 78% believe there's a direct link between their home's tidiness and their well-being.
Three-quarters agreed their stress levels increase when the inside of their home is messy – and 70% agreed this carries over when their outdoor spaces are unkempt.
And after two years of the pandemic, 75% said they don't know where they'd be without their outdoor space – with an additional 71% describing that it served as an oasis during this time.
That said, homeowners may want to get to their spring-cleaning checklist sooner rather than later. Of those who regularly do spring cleaning (over 1,600 of those polled), 72% agreed their spring cleaning also plays a role in improving their well-being.
Other motivations to clean included feeling productive (53%), welcoming the change of seasons (48%) and preparing for other spring activities (47%).
Conducted by OnePoll on behalf of TruGreen, the survey asked these respondents about their spring cleaning habits, and found it takes a little over two weeks to check everything off their list.
Over half of spring cleaners need longer than the 16-day average – and even 6% reported needing about a month's time (29 days) to finish their cleaning.
It's no surprise then that 68% agreed their spring cleaning always feels overwhelming, and their most labor-intensive task is put off for six days.
And for good reason – their checklists start with cleaning the bathroom (56%), cleaning out the fridge (55%) and then cleaning and organizing the garage (53%).
Then, respondents move to cleaning out their pantries (48%), mowing their lawns (46%) and organizing their basements and attics (44%).
With these long, arduous lists – 59% of spring cleaners said they'd rather hire a professional to get all their jobs done this year as opposed to taking it on themselves.
"Nothing feels quite as satisfying as a clean home and spruced-up outdoor living space – and the spring, a season that welcomes new beginnings – is the perfect time to make that happen," said Marc Mayer, TruGreen's Director of Technical Operations. "But we also know how long – and stressful – that list can be. Bringing in a professional service like TruGreen ensures that homeowners can not only continue to have the time to spend enjoying their outdoor living space beyond the pandemic, but also have it look its very best." 
On top of their spring-cleaning to-do lists, 30% plan to make some upgrades to their homes – perhaps to keep up with the Joneses.
Just over six in 10 of all respondents polled said they often feel pressure to maintain their home's exterior to keep up with the rest of their neighborhood.
Some top priority projects respondents are planning for their outdoor space include planting flowers or making a garden (56%), spreading grass seed (50%) as well as updating their landscaping overall (48%).
"With Americans spending more time at home throughout the ongoing pandemic, they appear to be prioritizing improving their homes, with 78% of respondents agreeing that they take a greater sense of pride in their home's appearance and 69% take pride in their outdoor space," continued Mayer. "As we round the corner to warmer months ahead, with more than half of respondents intending to use their outdoor living space more this year while they remain working from home, it's important to make the investment now in ensuring your lawn, trees and shrubs are healthy and weed- and pest-free." 

SPRING CLEANING CHECKLIST
Cleaning the bathroom – 56%
Cleaning out the fridge – 55%
Organizing/cleaning out the garage – 53%
Cleaning out the pantry – 48%
Mowing the lawn – 46%
Organizing the basement/attic – 44%
Raking leaves – 43%
Pruning bushes – 40%
Gardening/planting spring plants/flowers – 39%
Weeding outdoor spaces – 37%
Mopping the floors – 37%
Dusting – 33%
Pest control – 29%