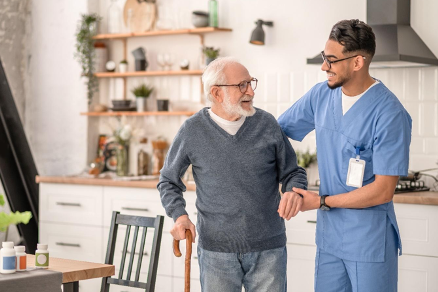 There are various intelligent marketing tools that you can use to boost your care home marketing activities, one of which is expert analytics software known as call tracking.
To help you understand why this software is so crucial to include in your marketing efforts, Media Hawk explains how tracking works and how it can be used to improve your care home campaigns.
How does call tracking software work?
Call tracking software is an advanced analytics tool that lets you track all prospective resident's calls from the specific marketing sources they originated from.
With an expert call tracking system, you'll be able to see the exact touchpoints a prospect visited before, during, and after they called, as well as a variety of insightful data on each call interaction.
The software uses dynamic phone numbers on your website which can identify various campaigns and channels driving calls, to help you form complete journey maps for every caller.
Not only this, but you can receive visitor-level tracking that can monitor callers who leave a session on your website and return at a later time – something less advanced analytics software can't do.
With call tracking software for your care home, you'll have the most effective way of tracking and analysing how prospective residents are engaging with different areas of your marketing.
How can you boost your care home using call tracking software?
Accurately targeted activities
By analysing detailed reports and insights from the software, you can fine-tune your marketing activities to a specific audience.
When you receive enquiries from prospects, you can use the software to segment these enquiries by region, campaign, and even specific care homes – if you have multiple.
This can help you see how different audiences are interacting with your care home marketing and any preferences or specific needs they have.
As a result, you can adjust your marketing campaigns to target a certain segment of your prospects, so they're designed to meet their specific preferences and needs – thus generating more leads and move-ins.
Understand conversions in the prospect journey
Call tracking software can also offer you a clearer picture of how your prospects are being converted at different stages throughout their journey.
For instance, the software could reveal that the majority of your prospects are following a link from your social media page onto your website, and then calling your care home from this point.
This information will highlight which campaigns and channels are most valuable for converting prospects, as well as where in the marketing funnel you should be focusing on new activities.
This will help you know how to structure certain areas of your marketing for optimal engagement and conversions from prospects.
More profitable marketing investments
Another key aspect of your care home that call tracking can improve is making more profitable investments in your marketing.
With the software's insights, you'll know which of your campaigns and channels are generating leads and move-ins successfully, and which are receiving low levels of engagement.
This can help you direct your resources more effectively so that you're only investing in activities that are likely to produce leads and move-ins, and not wasting any spend on underperforming campaigns.
This will result in an increase in your return on investment, and provide a more cost-efficient structure for your care home marketing.
—
By utilising call tracking effectively, you'll begin to see a significant improvement in your move-ins and your care home marketing as a whole.