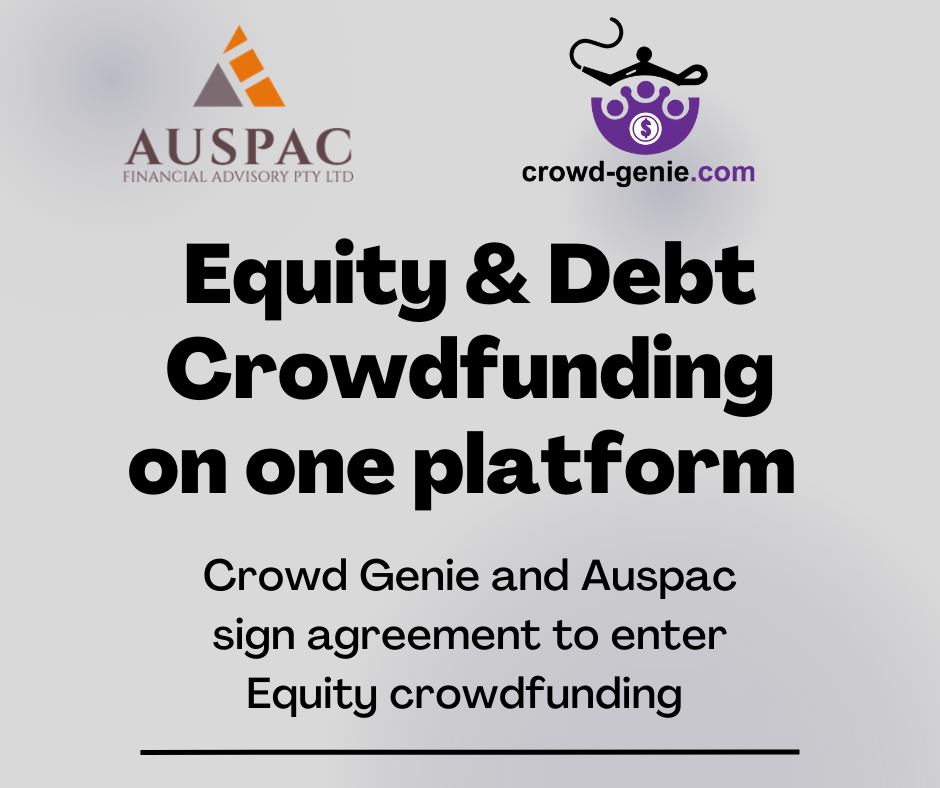 Crowd Genie Financial Services Pte. Ltd. that runs the www.crowd-genie.complatform announced that it has signed a Memorandum of Understanding with Auspac Financial Advisory Pty Ltd. to enter into Equity Crowdfunding space. This MOU enables Crowd Genie to leverage on the expertise of Auspac to expand beyond its debt crowdfunding offering, to include equity funding. Advantage Capital Group Pte Ltd served as an introducer for the parties.
Auspac, with its experienced team with deep transactional experience across multiple sectors and geographies, has built an enviable network across Australia, Malaysia, and Singapore. These strengths will enable a strong continuous pipeline of potential issuers to engage with the ECF platform, coupled with Crowd Genie's expertise in successfully assessing and fund raising for small businesses in Singapore through its licensed platform, would ensure that up-and-coming companies have access to funds for their future growth. 
The MOU between Auspac and Crowd Genie outlines areas of collaboration such as raising awareness among small and medium enterprises and the investing community about the various channels and opportunities for fund raising, develop procedures for the cross-referral of potential clients and knowledge management to ensure efficient access to funds for SMEs as well as identify potential paths for investor exit strategies.
The platform will distinguish itself from the other platforms, by providing debt and equity crowdfunding on a single platform making it unique in the market, allowing issuers the flexibility to find the right mix of debt and equity for their capital raises. In addition, Auspac's experience in assisting private companies in the IPO process and capital raises across various markets in the region would encourage issuers to come on board the ECF platform where they will have a glidepath towards a liquidity event, allowing investors to potentially obtain access to promising early stage growth companies.
Crowd Genie CEO, Akshay Mehra said, "We have built our platform behind the belief that SMEs are highly underserved by the traditional financial intermediaries, and the COVID pandemic has brought this issue into focus like never before. We are excited with partnering with the Auspac team whose extensive experience in Australia and Southeast Asia can help small businesses raise equity funding. The flexibility of doing equity and debt fund raising on a single platform will make it a uniquely convenient option for small businesses, and I look forward to seeing the continued exponential success of the platform". 
From Auspac's standpoint, its director, Mark Leong said, "Auspac is delighted to be working with Crowd Genie on this ground-breaking collaboration. This partnership will benefit start ups and small businesses with more funding options. Such businesses constitute the backbone of Asian economies, producing significant levels of employment and are often more flexible and quicker to innovate than larger companies. Our partnership with Crowd Genie will ensure that we are able to identify and facilitate investments in promising companies and help create value to investors. This is reflected in Auspac's vision "For Investors, By Investors".  We hope to expand such services into other emerging markets such as Vietnam, Thailand and Indonesia in the near future."
ABOUT CROWDGENIE
Realising that there was a dearth of crowd-funding platforms available to small and medium businesses, Crowd Genie was licensed by the Monetary Authority of Singapore in 2017. The company aims to provide small-and-medium sized businesses with crowdfunding solutions that are cheaper, faster and more flexible than traditional sources of funding.
ABOUT AUSPAC
Auspac is a corporate financial advisory firm operating in Australia with subsidiaries in Singapore and Malaysia. Auspac advises private companies to list on the ASX. They hold an Australian Financial Services Licence which allows for the provision of financial services to wholesale clients and is also an approved Nominated Adviser, which allows for Auspac to assist companies with listing on the NSX. Its subsidiaries include Auspac Investment Management, which is a licensed fund management company based in Singapore and iPivot, a licensed equity crowdfunding operator based in Malaysia.