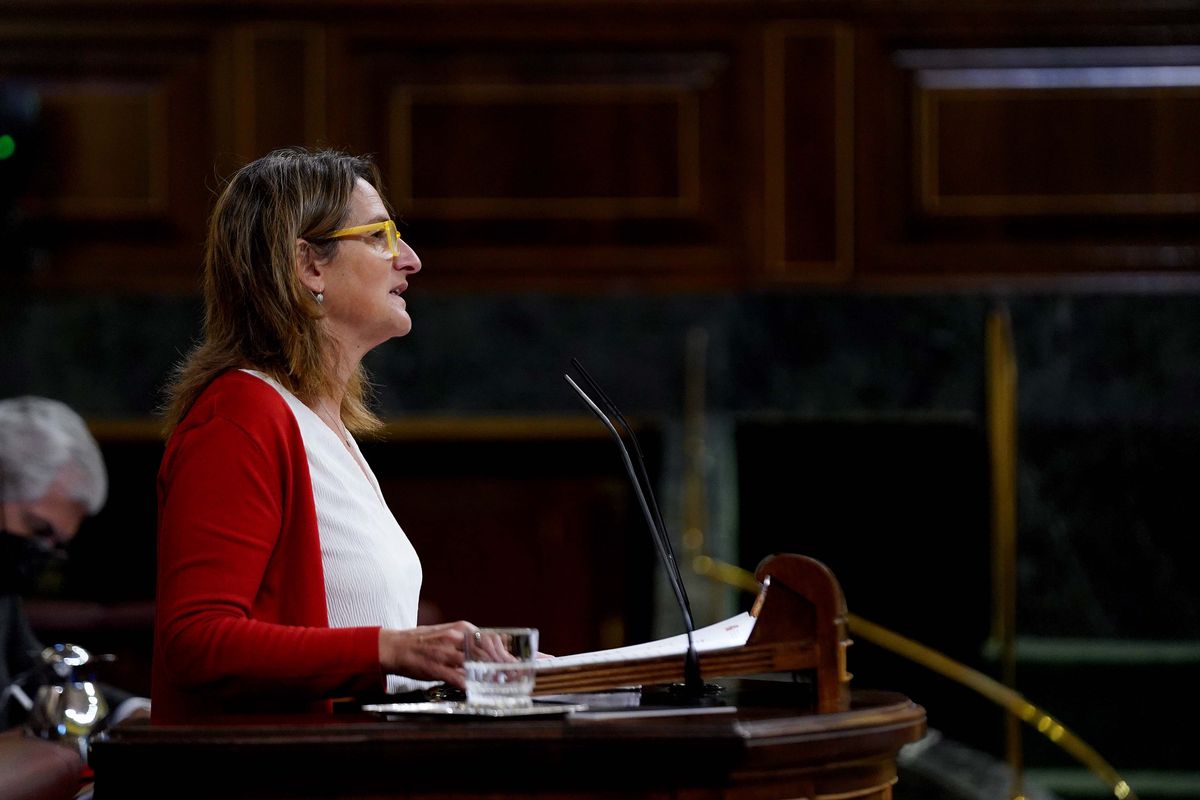 The Congress of Deputies will approve this Thursday the royal decree law to mitigate the impact of the rise in gas on the electricity bill with the abstention of the PNV , according to the Basque formation.
The rule that cuts electricity companies by more than 2,600 million euros will go ahead with the commitment of the Vice President and Minister for the Ecological Transition, Teresa Ribera , to soften the cut if the electricity companies sign contracts with the industry at a pre-scaled fixed price, as announced exclusively by El Periódico de Catalunya. In addition, the vice president has advanced this Thursday that the Government will reinforce the social bonus for vulnerable consumers.
"In the coming weeks we will implement additional measures to guarantee the coverage of long-term contracts and strengthen the position of vulnerable consumers benefiting from the social bonus, " Ribera announced in the presentation of the decree in the Lower House.
The vice president did want to "make it clear" that the cut in electricity revenues is only applicable "to those who have internalized the extraordinary benefits" caused by the rise in gas, but also the Government wants it to be for those who "guarantee 'exnovo' stable prices that do not internalize the evolution of the gas price ", in order to" promote the coverage of reasonable prices for the industry ".
An electricity bill with some light bulbs.
That is, if the electricity companies sign new contracts that are governed by current prices (around 200 euros per megawatt hour) with the companies, they will suffer a cut in their income, but if they draw up or extend contracts at prices prior to the escalation (around 40 euros) will receive the pardon, that is, the reduction will not be applied. Ribera has not given more details about this measure, but this Wednesday he already warned that, among the objective of the round of contacts that he had maintained these weeks with the electricity companies, was to obtain a "greater contribution" from these companies to " provide coverage " the most vulnerable consumers.
A user connects a plug to the electrical current.
More than 1.3 million consumers in Spain are covered by the social bonus , a discount of between 25% and 40% of the electricity bill for those users considered vulnerable who are covered by the regulated electricity rate .
In other words, it is precisely the consumers who enjoy this aid who are being most affected by the rise in electricity prices in the wholesale market. In this way, the Government wants to expand the measures to lower the bill in the face of the situation of high prices that will come in the next few months with the focus on the most exposed consumers , such as domestic and industry.