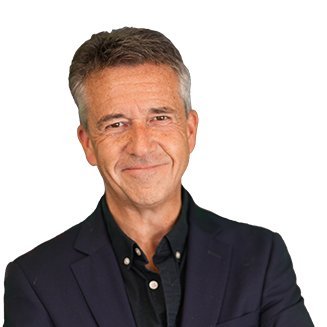 Sunday Times bestselling author, Professor Paul McGee – aka The Sumo Guy, promises down to earth Mancunian approach during Cheshire Business School keynote
Paul worked closely with Manchester City players and staff when the club won its first League Championship in 44 years
And will bring forward practical tools to help people lead themselves and others in changing times
We thrive on change and we cope very well, according to Sunday Times bestselling author Paul McGee – aka The Sumo Guy.
The Visiting Professor at the University of Chester and one of Europe's leading speakers on the subject of change, resilience, wellbeing and communication is to deliver a keynote at Cheshire Business School next week.
"When we talk about being scared of change, what we need to appreciate is we're not actually scared of change per se," says Paul.
"We thrive on change and we cope very well. Take COVID, we had no choice and we did it. We change our cars, our houses, where we go on holidays. We start families."
Paul, who has delivered inspiring keynotes in 42 countries, worked with Manchester City's players and staff during the season when the club won its first League Championship in 44 years.
Giving examples of mindset and approaches to resilience when change happens he said: "If a Manchester City footballers have injuries the club can give them access to the best surgeon on the planet to help them physically recover, but how do you recover mentally?
"Part of my role was helping people at the club from a mindset point of view and to understand the recovery journey they were on. Physios at Manchester City would say some players recover more quickly than others. A lot of that is to do with what is going on in someone's head."
He adds: "The bottom line is change is a lot easier when it is your choice and you're in control. There is nothing wrong with operating within comfort zones and it is what we as people can do.
"When change comes though it can take us out of our comfort zone. There's a degree of uncertainty baked into change and it can feel like a little bit of a threat. Change is a big subject and it's not black and white. I think we can have more open conversations about change and embrace it more."
Paul is the latest world class speaker to talk in front of members and guests of Cheshire Business School.
His keynote takes place at De Vere Cranage Estate from 8.30am to 10.30am on Monday, February 6.
And he's promised to tell it as it is with Mancunian inspiration.
"I'm a visiting professor but on one level I'm perhaps the least academic professor on the planet, he says. "I'm from Manchester so you're not going to get Californian motivation, you'll get Mancunian motivation, and for me Mancunian motivation is tell as it is, let's be practical.
"It will be a down to earth real world approach that will help people sustain more of the high times while managing the low times as well as leadership is about both those things. This is about genuine practical tools. What we talk about in the morning can be used that afternoon."