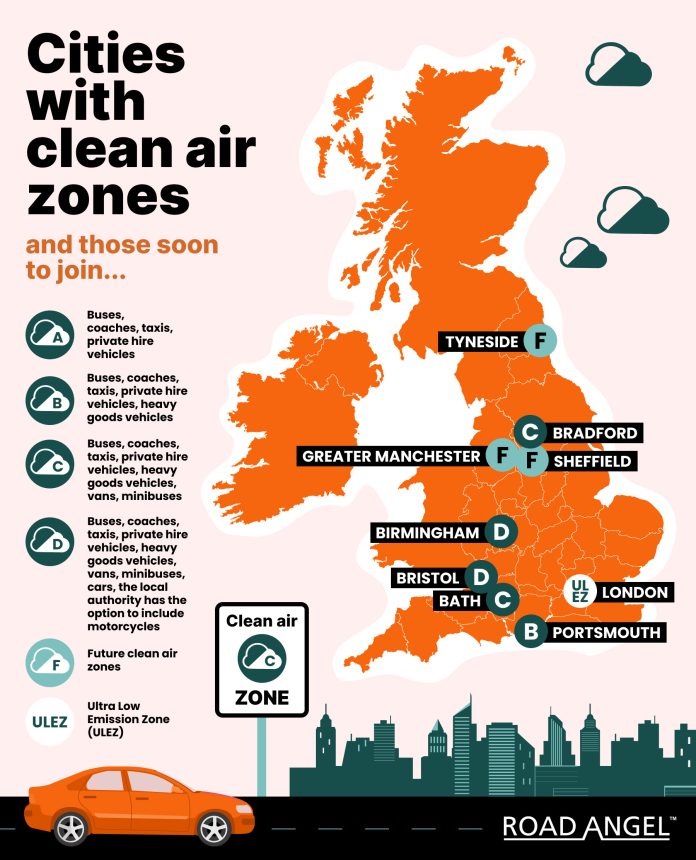 More UK cities are set to introduce clean air zones this year, making motorists pay a charge if they wish to enter city centres.
Road safety experts at Road Angel are urging drivers to check for changes in their local areas and to get any necessary permits to prevent facing fines for driving through these zones.
Drivers in London already face charges if they wish to enter the capital's low and ultra low emission zones (ULEZ). Five other UK cities have already introduced clean air zones with three more due to start in the coming weeks and months.
Currently, drivers in Bath, Birmingham, Bradford, Bristol and Portsmouth all face potential charges based on the level of their emissions.
Tyneside is set to introduce its own Clean Air Zone on 30 January and Sheffield will follow suit on 27 February.
Greater Manchester is the third local authority set to introduce a clean air zone in 2023 although they have yet to agree on a date.
Cities are able to choose one of four possible clean air zones from Class A through to Class D which each class targeting different types of road vehicles. Failure to comply can result in a fine of up to £120.

Currently, only Birmingham and Bristol have introduced Class D Clean Air Zones – these are the most far reaching and require private car drivers to register and potentially pay charges depending on the level of their emissions.

Both Bath and Bradford have introduced Class C Clean Air Zones, these target vans, minibuses, coaches, taxis, HGVs, buses and private hire vehicles but not privately owned cars.

Portsmouth is currently the only city to have brought in Class B restrictions where charges apply to coaches, taxis, HGVs, buses and private hire vehicles but not cars, vans or minibuses.

It's believed that Sheffield is planning on a Class C zone while Tyneside is planning to introduce Class B restrictions. Details for Manchester's upcoming zone have not yet been finalised.

A spokesperson for Road Angel said: "We welcome changes to improve air quality in our cities but we don't want these changes to take any drivers by surprise.

"Therefore we are urging drivers who may be visiting any of these cities to check the government's website to find out if they are required to obtain a permit for a clean air zone.

"It's also worth checking the vehicle's logbook where information on the vehicle's emission rate can be found to determine if charges can be applicable in clean air zones.

"If drivers don't pay the fee applied to their area within six days of entering the clean air zone, they can face a standard penalty charge of £120.

"Going forward, we predict this will encourage drivers to turn to electric vehicles so they don't have to face further charges for their vehicle's emission rates.

"While Sheffield and Tyneside are currently the only areas planned to introduce charges in 2023, along with the possibility of Greater Manchester, it doesn't stop the case for more cities across the UK to add their names to the list."

Drivers venturing into these cities will soon have access to this information in-car via the Road Angel Pure