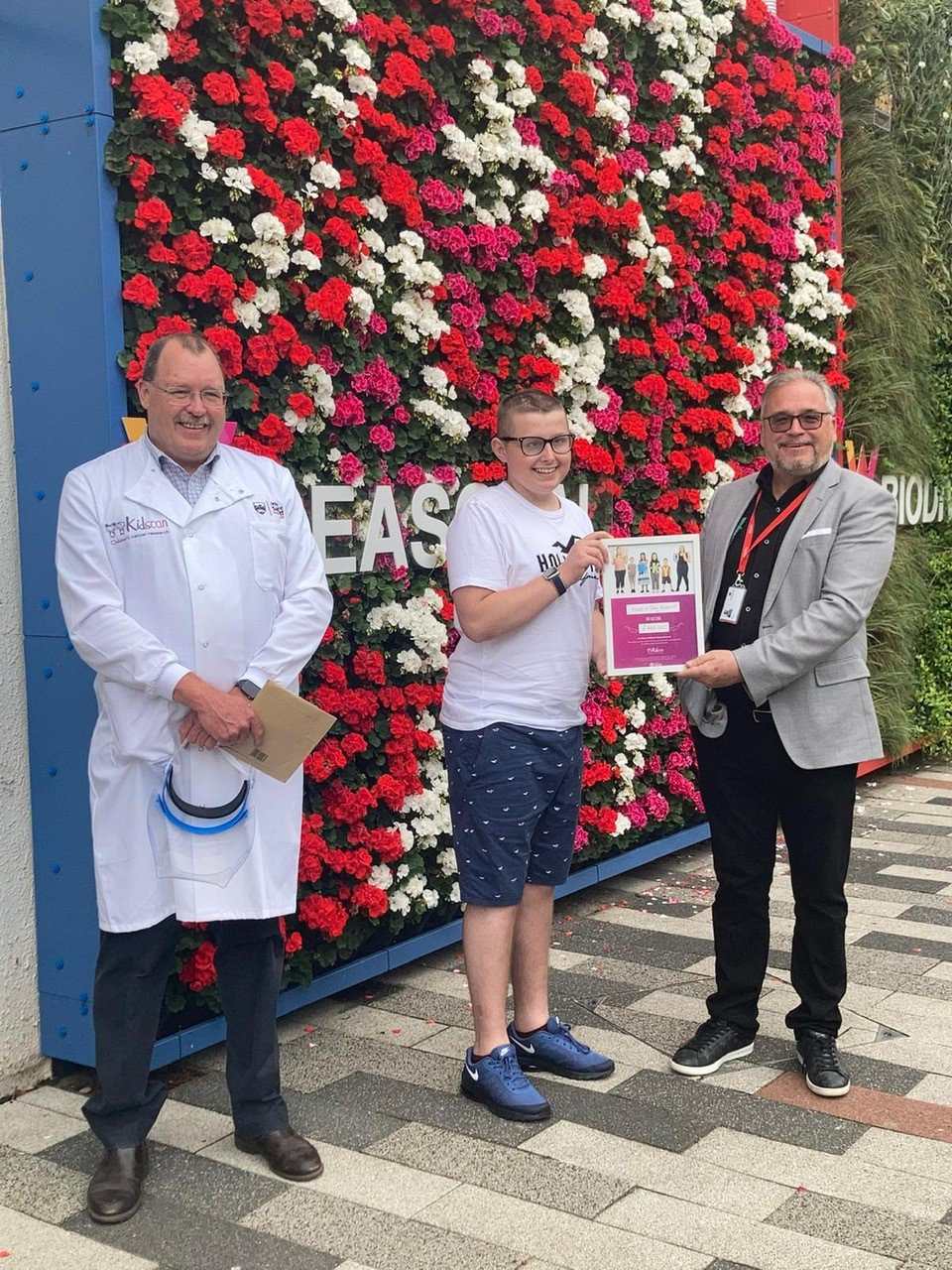 Local Business Leader And 'Inspiring' Charity Ambassador Tour Kidscan Children's Cancer Research Labs at Salford University.
Local business leader Ged Mason (OBE), CEO of The Morson Group and Matty, Kidscan Ambassador from Leicester, finally got to meet face to face while viewing the labs at Salford University, where some of the childhood cancer research they help to fund, is taking place.
First Meeting:
Mr Mason had come across Matty's 'Letters From The Lockdown' Facebook group where Matty shares his cancer journey, raising awareness with his correspondents around the world. Mr Mason himself wrote to Matty to say that Matty's spirit and thoughtfulness is inspiring, and that his company Morson had chosen Kidscan as their Charity Partner. He also said that Matty's work to promote the charity, in this tough year, is amazing.
Both were keen to meet and a chance to take a look around the Kidscan labs gave them the perfect opportunity.
The afternoon began with a wonderful surprise for Matty as Ged presented him with a signed Jamie Vardy football shirt – Captain of Matty's beloved Leicester City FC. It included a personal message: "To Matty, Keep Strong. From Jamie Vardy". Matty was absolutely over the moon!
The Tour:
Kidscan's Scientific Director, Dr David Pye then began the tour, taking the group to the newly extended and refurbished area of the University of Salfords laboratories, where most of the Kidscan funded work is carried out.
Dr Pye explained some of work Kidscan undertake to discover new and more gentler treatments for children's cancer and some of the other issues that are unique to the challenges faced by researchers in children's cancer. One of these issues is the lack of researchers specializing in childhood cancer as most scientists and medics work on adult cancer. Helping to inspire the next generation of scientific researchers to join the fight against childhood cancer is a crucial element of Kidscan's work.
"Breakthroughs in treatment and a greater understanding of specific childhood cancers will not come from big pharmaceutical companies alone or by solely conducting research into adult cancers. We need medical research charities, like Kidscan, to encourage more brilliant minds to specialise in discovering new, safer treatments for children's cancer." Dr Pye
Ged Mason's Response:
Ged Mason was particularly interested in hearing how Kidscan is amplifying our work by building relationships and collaborations between researchers and other research institutions by funding projects at universities across the UK:
"Collaboration is a powerful tool and hearing how Kidscan have a network of researchers in multiple universities; talking to each other and sharing their knowledge and resources, that fills me with hope that tangible results will be achieved; finding safer, more effective treatments for children with cancer.
Plus, meeting Matty has been a wonderful experience. Having seen the joy and support he and his family have given to others, and his commitment to helping raise the profile of the important work Kidscan as a charity do, he is an inspiring young man. His family must be very proud of him, as am I.
I am extremely happy that we at The Morson Group have extended our Charity Partnership 2020 to a second year in 2021 and I look forward to working with them to help children like Matty" Ged Mason, CEO The Morson Group"
Kidscan Ambassador Matty's Response:
Matty really enjoyed the tour; meeting Ged, hearing how Morson support Kidscan and learning more about what the research is all about:
"It was an incredible opportunity to see such amazing work up close. What they do will benefit so many children, it's heart-warming knowing that there are people out there trying to improve the lives of people like me" Matty
Matty's mum Alison accompanied him on the visit:
"I was so inspired by the work that Kidscan are doing, in particular looking at reducing the side effects of the treatment on children, which is so often not considered in the bid to save lives. Raising money for such a fantastic charity is now an even bigger priority for me. Thank you so much for giving us the opportunity to see for ourselves the amazing work that Kidscan do" Alison (mum)
All of us at Kidscan would like to say a huge thank you to Ged and to Matty for their incredible support and promotion of the vital research that Kidscan does.  
About Kidscan Children's Cancer Research:
In the UK, over 20% of children who are diagnosed with cancer will not survive because treatment options are limited. Of those who do survive, 60% will go on to develop life-limiting, life-altering late-effects such as hearing loss, organ & bone problems, development issues and in some cases, infertility caused by the treatments used to save their lives.
In the UK only 3.5% of medical research spend is dedicated to fixing this problem, but at Kidscan we are different – we are one of the only charities in the UK solely dedicated to finding safe new treatments for children diagnosed with cancer.
Further information about Kidscan can be found here: www.kidscan.org.uk  
About The Morson Group:
With a unique 50-year heritage, Morson Group has an outstanding reputation for providing consultancy, design, technology, screening, training, and people solutions around the world.
Morson as a business is defined, not by what they gain, but by what they give back. Formed in 2007, their charity committee continues to lead their fundraising efforts as they pledge support each year to multiple worthy causes across the UK. At Morson care for the community goes beyond financial donations and instead permeates every aspect of their business with ambassador, sports and support programmes
Further information about The Morson Group can be found here: https://www.morson.com/